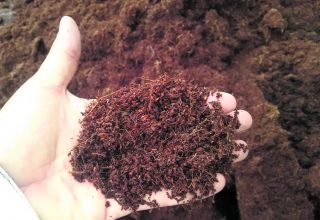 Coir products are derived from coconut husks and now in their many forms offer a great peat-free alternative for the ecologically-aware gardener.
There was a time when coconuts were harvested only for their scrumptious flesh and delicious juice inside. The rest was considered a waste product.
Thankfully for an ever-growing number of discerning gardeners, the natural fibre extracted from the husk of the coconut, found between the hard inner shell and the outer coating has now made a real impact as a plausible and increasingly popular alternative to peat-based products.
Coir (pronounced Coy-er) ticks several boxes as being 100 per cent biodegradable and natural, and therefore the basis of an increasing number of products which cause minimal harm to the environment.
Its arrival on the market with a range of coir-based products is tempting gardeners to work more with this natural product.
Coir mulch is a renewable resource, unlike peat moss, which comes from non-renewable, diminishing peat bogs.
Coir goes by many names. You may find it labelled as coir-peat, coco-peat, coir fibre pith, coir dust, and other similar-sounding names. It is made from the pith found between the coconut fibres. The coir pith gets washed, heat-treated, sieved to remove large particles, and graded. Very often it is compressed into blocks or bricks, which need to be soaked before using. You may also find growbags or bales of coir. Its impact in the gardening market is now substantial and is becoming more accessible and affordable.
Coir is native to most of the Asia pacific region, especially India and Sri Lanka where coconut is produced in large quantities and exported through the world. Recently the global annual production of coir has been estimated at 650,000 and is becoming a product much in demand.
It has several advantages over peat.
Water retention – Coir mulch holds 30 percent more water than peat. It absorbs water easily and drains well. This is an important benefit in drought-plagued areas, as use of mulch may reduce water use in the garden by as much as 50 percent.
Soil amendment – Coir is versatile in improving difficult soil. For example, coir mulch helps sandy soil retain nutrients and moisture. As an amendment for clay-based soil, coir improves soil quality, preventing compaction and allowing freer movement of moisture and nutrients.
Soil pH – Coir has a near-neutral pH level of 5.5 to 6.8, unlike peat, which is highly acidic with a pH of 3.5 to 4.5. This is an ideal pH for most plants.
CoirProducts is the first company in the UK and Northern Ireland to offer the wide range of coir-based products. Updates to the ways coir can be used in the garden are continuously being made, creating a variety of products easily available to anyone who needs them.
All the CoirProducts are ethically produced and sourced, helping a garden to be healthy and eco-friendly. The collection includes items such as:
Coir Pots – much in demand now and an ideal way to grow plants without having to put them through any transplanting shock- they can just be placed in the soil and the roots penetrate through the pot and grow through it. The pots are available in a range of sizes.
Coco Peat – a multi-use growing medium.
CoirCoins – compressed coco peat pellets perfect for sowing and seeding.
Coir Mulch Mats – which can be used for weed control, or as pot toppers.
Coir Bricks – solid bricks of coconut fibre which expands through soaking in water to produce high quality fibre.
And coir has been adapted to offer, Coir Discs, Growbags, Growcubes, Coir Sheets, and Coir Netting to name a few more, CoirProducts has all the essentials to get your garden flourishing. 
Working within a competitive industry, as a company, CoirProducts is not merely profit-driven, but takes pride in helping communities and sharing knowledge.
For example, CoirProducts supports Chestnut Tree House, a children's hospice charity that supports over 300 children and young adults in Sussex, by contributing a portion of every purchase towards them. Back at the factory, corporate social responsibility programmes focus on helping local children, and the work also supports the cottage industry, contributing towards rural economic development.
Shop online now at www.coirproducts.co.uk or email hello@coirproducts.co.uk to get your coir-based products. www.coirproducts.co.uk