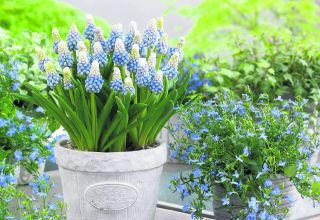 Bulbs are easy to grow and care for and are amongst the most rewarding plants we can nurture, so over the next few weeks it's time to plant for spring and with it the chance to be more adventurous.
Planting spring bulbs in a much-underrated joy.
In its simplest form it is the perfect way to guarantee colour for spring and thrill us after the gloom of winter.
It takes place at a time of the year when many plants are dying down and there's the need to feel plans are being made for a colourful spring. Too often bulb planting in early autumn takes too much of a back seat but it really is worth taking the time to plan because bulbs are the key to a spectacular spring garden. There is a huge range of bulbs to choose from.
It is well worth exploring beyond perhaps your normal comfort zone when it come to buying new bulbs to try a bolder, more dramatic and colourful approach to next spring.
The more unusual bulbs might appeal, corms, tubers and rhizomes from tiny chionodoxa to giant camassias in glimmering blue. Tulips, which remember don't need planting until November, offer the most wonderful choice if you want new colours to enjoy. Alliums offer more pastel options and have that 'look at me ' quality about them.
Yellow hellebores offer a subtle look.
Choose the right varieties and the right colour combinations and you will be rewarded with a spectacular display.
The earliest daffodils can start to flower from February. Look to the aptly-named 'February Gold', 'Julia Jane' and 'Rijnveld's Early Sensation'. Well-known 'Tête-à-tête' also flowers promptly from late February or March. Elegant Iris reticulata and other dwarf hybrids such as 'Katharine Hodgkin' as well as Iris unguicularis are all early to flower, providing splashes of lilac and purple colour in February and into March.
Crocuses are a reliable sign that winter's over and spring has arrived – the pretty C. chrysanthus cultivars are very early flowering, as is Crocus tommasinianus.
Once March arrives and April is on the way, the palette of bulbs in flower begins to expand. All the glorious mid-season daffodils to choose from appear– dainty, nodding 'Hawera', pure white, gracious 'Thalia', multi-headed 'Minnow' and 'Silver Chimes', golden 'Sweetness'.
Try underplanting them with gorgeous Anemone blanda, their quite large daisy-like flowers in purple-blue and white opening wide in spring sunshine, or mix the daffodils' yellows with the deep blues of muscari (grape hyacinths). Just be sure to avoid the invasive species, Muscari armeniacum, and stick to the better behaved cultivars such as 'Blue Magic', or paler baby blue 'Valerie Finnis'.
Bluebells flower in April and May – create your own mini bluebell wood by underplanting trees and shrubs with the traditional English bluebell, Hyacinthoides non-scripta, or the rarer white version of it.
These are the months when the late-flowering tulips come to the fore as well: lily flowered types, with their flared, pointed petals; fringed parrots; the simple, goblet-shaped single lates; green-banded viridifloras; and doubles with their luxurious many-layered petals.
Unless you are growing straight rows of bulbs fro cut flowers the general rule is to plant in as natural, informal way as you possible can.
With no spring bulbs our gardens would be much poorer places so planning the show for spring is arguably one of the most important tasks in the gardening year.
Spring flowering bulbs to plant in autumn 

Nerines, daffodil, snowdrops crocus, hyacinth, lillies, allium, tulip, crocosmia, iris, narcissus, ranunculus, tree lily, anemone, fritillaria and muscari.
What's in a bulb?

Most true bulbs whether it be anything from onions or daffodils consist of a basal plate at the base where the roots grow from so although it sounds obvious you need to ensure the bulb points down when planting.

There are then layers of scales which are the leaves in their embryonic state and here energy is stored. These also protect the inner workings of the bulb- the stem and the flower. There is a thin outer skin called a tunic which helps the bulb from stopping drying out. The leaves then use sunlight to make energy which is stored in the bulb for next year's display.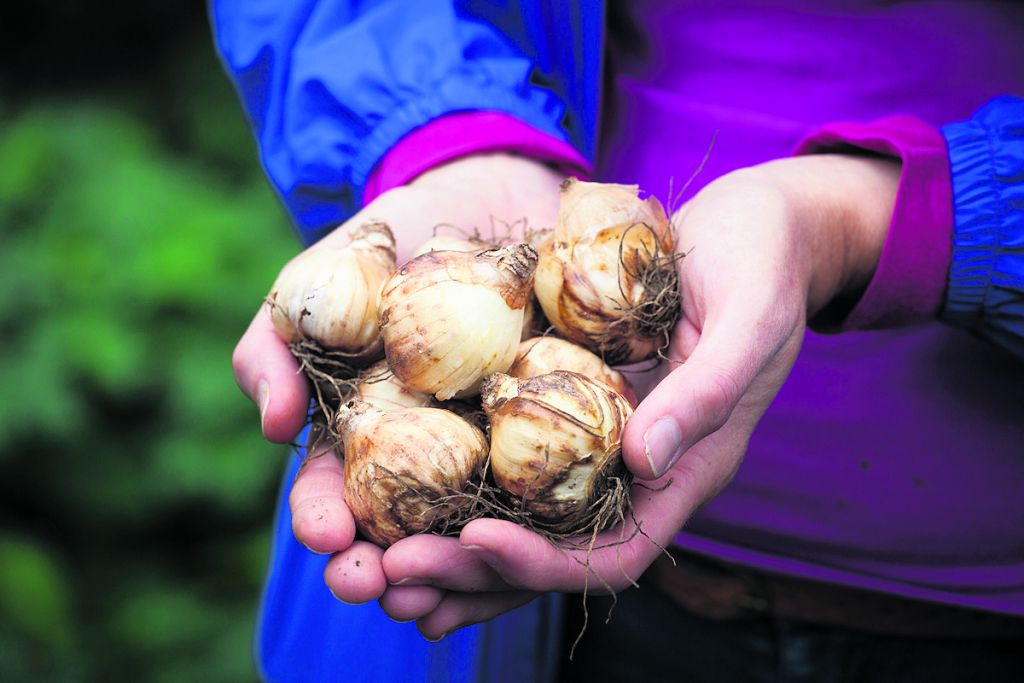 Buying your bulbs
Always buy from a reputable suppler, a garden centre you have confidence in or a nursery and try and ensure they are home produced and not plundered from the wild.
Order early and plant early. Too often many of us are disappointed when it comes to looking for new colours and new bulbs to try only to find the best have been bought, so order and buy early.
Try and envisage what the bulbs will look like in your garden, the colour, the position, the way the colours will match and don't be too swayed by how they look in the catalogue.
If you are not ready to plant then keep the bulbs in a dry cool spot but  do try and get them in the ground as soon as possible.
Bulbs should be firm and solid with a smooth shiny skin, which fits tight to the bulk. Anything that is soft or flaky needs to be disguarded. Also avoid any that have mould inside the neck or have yellow shoots. They may still grow but they won't perform as they should do.
The bigger the better. Late buyers may only have the smaller bulbs left to choose from so buy big.
It's normally safe to say that large sways of fewer varieties make the biggest impact in a garden rather than lots of different varieties.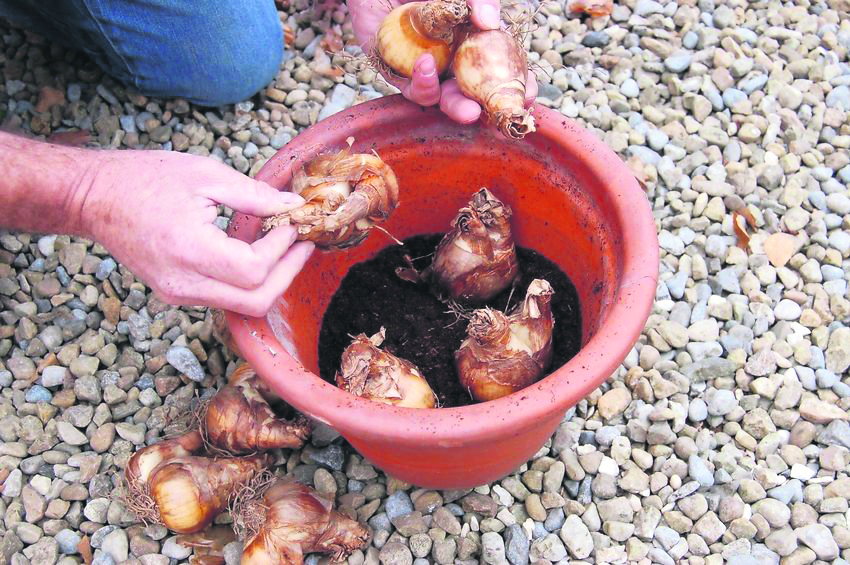 Growing bulbs in containers
Most bulbs are ideal for growing in containers with showy flowers such as tulips and alliums in particular.
Use good quality multi-purpose compost in your containers combined with a handful of grit to improve drainage. Specialist bulb compost is also available.
Plant bulbs as you would in a garden border, but they can often be planted closer together to provide a stronger display.
Pots may need protection from frost during the winter, so wrap the pots with newspaper or horticultural fleece. Clustering several pots together will also help them to stay warm.
Our choice of bold and dramatic bulbs for next spring

Iris 'George' Exquisitely beautiful with a delicious fragrance, Iris 'George' will be one of the earliest and most welcome signs of spring in your garden. Iris was the Greek goddess of the rainbow and a messenger of the gods. These brightly coloured little blooms in vibrant shades of violet with yellow splashes will certainly relay the news that spring is here.

Allium sphaerocephalon Allium sphaerocephalon is a striking allium, bearing dense green drumstick-style flower heads which mature to maroon-red. It's a great choice for growing in a mixed herbaceous border among ornamental grasses, or gravel gardens. It also works well in a pot. 

Allium 'Purple sensation' The best all round garden and flower arranging allium. 'Purple Sensation' starts to flower after the tulips in mid-May and  stays in flower longer than most.

Iris 'JS Dijt' Iris Reticulata 'J.S Dijt' is a  lovely small bulbous, perennial that has fragrant purple flowers in spring. This iris is a dwarf variety that will reach 10-15cm in height and is very sturdy.

Fritillaria persica Native to southern Turkey, Fritillaria persica has elegant, tall stems of sumptuous, dark plum-coloured flowers. It's unusually tall for a spring-flowering bulb and therefore makes a grand statement among other tall-flowering blooms such as tulips and white narcissi. 

Tulip 'Black Parrot' Dramatic, blackish-purple, cup-shaped flowers with irregularly cut wavy petals in May and strap-like, grey-green leaves. These spectacular black flowering tulips are becoming ever more popular and can be difficult to get hold of.

Tulip 'Cairo' Tulip 'Cairo' is a classic, cup-shaped tulip with an unusual flower colour. Blooms are a distinctive, beautiful burnt orange, with bronze and copper tints thrown in for good measure. … Standing on strong, pale green stalks, elegant Tulip 'Cairo' is perfect for garden beds, borders and patio containers.

Tulip 'Kingsblood' Tulip 'Kingsblood' is a wonderful addition to hot-themed borders, but will also add spark when paired with near-black tulips.

Trillium sessile Trillium sessile has mottled leaves with three leaflets, and deep red flowers with quite long, narrow petals, growing right in the middle of the leaves.

Hyacith 'Purple Sensation' Large bell like flower heads tightly packed with purple star shaped flowers framed in forest green curved spears of foliage and is a truly spectacular plant.

Anenome Bordeaux Anemone Bordeaux is a superb anemone with stunning flowers of velvety crimson and a steely blue centre. They are very good for using as cut flowers.

Muscari azureum Muscari azureum is a Turkish grape hyacinth. Its flowers are gathered in the characteristic rugby-ball shape in an attractive soft blue, sometimes with pink speckles inside.

Narcissus 'Minnow' Narcissus 'Minnow' is a charming daffodil which produces up to five small, creamy yellow flowers per stem. Clumps will quickly build in size and it makes an excellent flower. Grow in moist but well-drained soil in full sun.

Allium 'Jackpot' This is a clump-forming, bulbous perennial with strap-shaped, mid-green leaves, typically dying back before flowering.

Iris 'Alida' A new bulb on the market, Iris 'Alida' is a pretty dwarf iris with exceptionally large, mid blue flowers, beautifully adorned with intricate butter-yellow hearts.