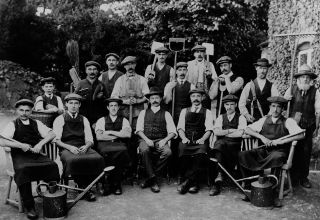 Hestercombe Gardens, just outside Taunton are asking Country Gardener readers if they can help to solve a local mystery? They need help to identify the men in this 1914 photo. They have just had a recent breakthrough, and now know the identity of eight of the 17 people in the image.
Thanks to his granddaughter, Julie Foster, who sent Hestercombe his garden notebook, they have been able to identify George Thomas Collier in the photo, Hestercombe House, gardens and grounds staff, April 1914. George Thomas is seated front row, extreme right.
If anyone knows anyone in this wonderful photograph they can contact
heatherchristian@hestercombe.com
---
Late night opening at Hestercombe
Hestercombe's gardens will be open until 8pm on Wednesday evenings until the end of September. It's the chance to enjoy the 50 acres of historic gardens after hours, and see the landscape in a unique way as they are open towards dusk – perfect for an after-work or school visit to relax.
You no longer need to pre-book timed admission to the late opening, just turn up from 5pm to 7pm!
You must have summer late opening admission in order to take advantage of the food and entertainment on offer. Last entry to the gardens will be at 7pm, before they close at 8pm.
Hestercombe, Cheddon Fitzpaine, Taunton TA2 8LG