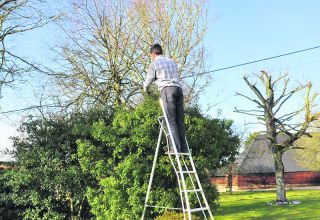 Falls from ladders in Britain result in an average of 130 visits to hospital A&E's every week in a recent survey. People are overstretching, losing their balance, placing their ladder on an unstable surface or at too steep an angle.
With this in mind, specialists Henchman ladders made it their mission to create the most stable, practical ladders you can buy. Founded in 1994 by Mike Kitching, the company is now the UK's leading supplier of high-quality safety ladders and platforms. Made from lightweight aluminium, they are exceptionally strong, quick to assemble and easy to move around.
Gardeners now have the chance to make 2021 the year to tackle any task at height safely with a HENCHMAN Tripod Ladder. The three-legged design, extra wide standing platform and claw like feet make it far more secure especially on uneven soft ground. In addition, it has a 'crows nest' platform at its highest point you can tuck in and brace your thighs against for added safety. Incredibly lightweight, a Henchman Tripod Ladder is easy to carry and manoeuvre.
A free set of rubber feet and gardening gloves worth £50 is available to Country Gardener readers. Simply add both to your order and use code CG821. 
To order or for more information visit Henchman.co.uk/Country or telephone 03333 444 229.