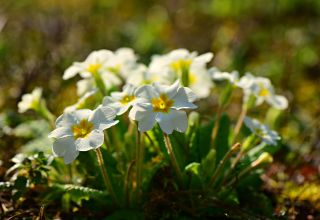 The Stewarts Garden Centres at Christchurch and Broomhill are celebrating the Primrose (Primula vulgaris) with a dedicated Primrose Festival between the 17th – 23rd February.  As one of the first plants to flower in the spring, and capable of surviving the worst of Britain's winters, Kat Hunt, Plant Buyer at Stewarts, says that these hardy perennial plants deserve to have the focus of an annual festival.
"The centres will be full of colour with many of the key varieties of Primrose on show. They are such great survivors that provide brilliant colours throughout the winter and spring no matter what the weather does, and they look great in borders, containers or hanging baskets," said Kat Hunt.
Alongside her colleagues Janet Clifford and Dave Levick favourite species including Primrose "Rosebud", Primrose "Antique Shades", Primrose "Lipstick" and the customers' favourite, "Rubens Sky Blue". The centres have also developed specific six packs for the festival based on the four seasons to help gardeners select from the wide choice, along with expert advice.
The wild Primrose can be often seen in the countryside and, as in many countries (as far north as Norway), are a protected species and should not be picked in the wild. Its multiple flower head is appreciated by many insects including bumblebees and can be a welcome addition for a wildlife garden.
The award winning Stewarts Garden Centres is a long established family owned business (since 1742) that still keeps its roots secured deep in horticulture.  To boost the 700,000 individual plants sourced from major suppliers, an additional 11% are cultivated at their own Nursery.
Further information on the Primrose Festival is available at www.stewarts.co.uk