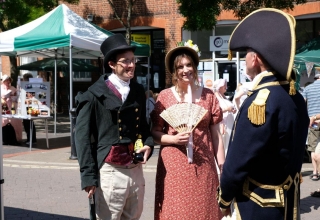 Jane Austen Regency Week is an annual Festival of events celebrating all things Jane and the Regency period which takes place in the Hampshire area of the South Downs National Park. The dates for 2020 are Saturday 20 to Sunday 28 June, with events happening in and around the market town of Alton in Hampshire and the nearby village of Chawton, where Jane lived and worked.  The Festival boasts a unique line-up of activities and events, including Regency period dancing, music, dining, exhibitions, talks and discussions, garden trails and tours, guided themed walks and more.(Events are subject to change and full line up to be announced –  visit website below)   Tickets for events go on sale on 7th January. www.janeaustenregencyweek.co.uk).
Chawton is home to Jane Austen's House Museum where she spent the last 9 years of her life and wrote or reworked her 6 acclaimed novels.  The village is also where her brother lived and the manor house and gardens of Chawton House are open to the public. The historic market town of Alton is the place where she shopped, banked, collected and delivered post, visited her friends and caught the stagecoach to London.
The Regency Week will begin in fitting fashion on Saturday,20th June with Regency Day  Alton – a day full of period delights such as carriage rides, costumes, market stalls, dancing and other entertainments. The celebrations continue with a Regency dancing workshop followed by a magnificent Regency Ball, where you can dress up and put your dancing skills to the test!  The week will unfold with daily themed activities for everyone to enjoy, whether or not they're a keen Jane fan.