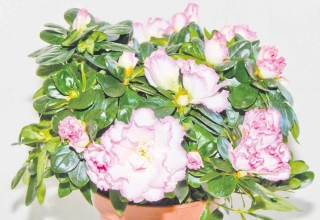 Bringing the garden indoors by being creative with indoor plants can lift our mood especially through the winter months.
It is quite usual for gardeners to miss the long days of summer which may seem a distant memory. With the change of seasons our moods often follow suit but there is a way to combat this problem – houseplants.
They bring the pleasure of growing right into our homes, brightening rooms and lifting the mood.
And you can enjoy great colours, gorgeous scents and even air purification by surrounding yourself with plants to beat the seasonal blues.
Here are some ideas to help:
Cymbidium orchids
Cymbidium have highly decorative flower spikes and are one of the least demanding indoor orchids. To flower well, the plants need a distinct temperature drop between day and night in autumn and early winter to set flower buds again. Ensure good light levels all year round, especially in winter. Support developing flower spikes with a bamboo cane. Flowers generally last for six to eight weeks.
Kalanchoe
Kalanchoe, pronounced 'collin-co-wee' is, an evergreen plant native to tropical Madagascar, and is a common houseplant grown for its attractive, numerous clusters of colourful flowers. Flowers comes in shades of yellow, orange, or red. It is available all year round at garden centres and makes a wonderful gift.
This houseplant is easy to take care of and will produce an abundance of long lasting flowers with very little care. It is a good choice for people who forget to water their houseplants, as it likes to be on the drier side. Kalanchoe is a succulent, which means its leaves store water. It does best in a warm environment.
SCHLUMBERGERA (CHRISTMAS CACTUS)

CYCLAMEN

CYMBIDIUM ORCHIDS

KALANCHOE
Schlumbergera (Christmas cactus)
The Christmas cactus is a great addition to your home n winter. Naturally flowering in December, they are almost indestructible and display broad, bold blooms.
This plant comes from Brazil and prefers a semi-shaded spot. It's ideal for humid environments like kitchens and bathrooms because in the wild they grow in the trees of tropical rain forests or jungles, so as well as ensuring humidity, they need to be somewhere warm—at least during flowering from September to January.
Rhododendron simsii (azalea)
Azaleas are a real favourite for lovers of house plants. Usually a sign that spring is coming, these classics can be brought inside and enjoyed in the cold season.
You can purchase varieties in arrays of pretty pink, rosy red and soft white—making them great gifts. Christmas azaleas will need a cool spot away from direct sunlight. It's important to keep the compost moist.
Cyclamen
Cyclamen are stunning upright plants in a huge range of colours, with swept-back flowers sitting above layered leaves. Displaying a variety of large or small flowers, some cultivars have silvery or patterned foliage and a sweet scent.
Grow them in a bright spot away from hot sunlight and radiators. Allow the compost to dry a little before watering again, as over watering can be more damaging to them.
Remember the three R's
Replenish plants by monitoring their watering needs and cleaning their foliage. Remove dust and maybe even take them to the shower and give them a gentle spray.
Repot if roots are growing out of the base of the plants or if the plants dry out very quickly. These are classic signs that you need to move to a bigger pot.
Replace plants if they are struggling in areas of low light. Choose the right plant for the light in your home.