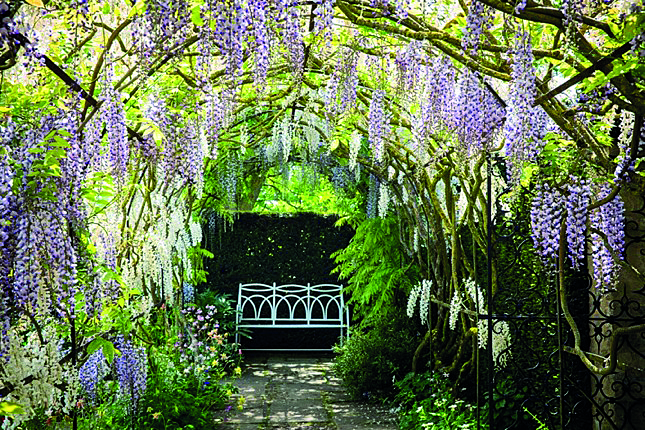 Susie Hunt re-visits the sensational Oxfordshire gardens at Waterperry where there's a new air of optimism and changes are afoot.
There are some gardens that exude a special something. It's impossible to put your finger on exactly what it is – or even to give it a name; it's more a case of feeling as though you can breathe again, of finding an inner peace.
But that's exactly the sense you get when you visit Waterperry Gardens in Oxfordshire – eight acres of stunning ornamental gardens I was lucky enough to work at for seven years.
While it's hard to describe, there have been some pretty significant changes there lately. Gone are the suspicions and intrigue about the garden owners – the School of Economic Science, replaced instead with a new feeling of optimism. It seems to be down to the new man at the helm – a man who by his own admission has little knowledge about horticulture, but great ambitions to move Waterperry forward by taking it back to its roots.
Simon Buchanan is a year into his role as the new Steward of Waterperry Gardens. A stone carver by trade, he comes across as fearless and excited about the task ahead. "I don't have any horticultural experience. I love the place, I love the people and I think I've got a sense of showmanship so I'm after making it somewhere that people love to come to see. I'm learning about the horticultural side of things too, going round the garden with one of the experts and learning. Everything's an education to me so it's quite exciting."
Unlike his predecessor, Simon is in charge of all aspects of life at Waterperry Gardens – from the orchards and gardens to the annual Art in Action event – a four day festival featuring the very best in creative arts. It's allowed him to think big – to free up or spend money in one area knowing he's the one who'll have to deal with the consequences. He's determined to take it one year at a time to be sure he's moving in the right direction and for him it's the people working at Waterperry who'll make it work.
"They are the key and I'm just very aware that it all revolves around a few key people and their attitude and my inability to pay them what they should be paid or the expertise to find the people we want! So we've just got a new lady in the nursery and she's going to be great but she's taken a pay cut to come here and she used to work in a garden, but because she really loves plants she wants to do more in the nursery so she's made a sacrifice to come here."
Simon has spent most of his working life – in his words – "whacking bits of stone to make them to the way I want them to" – with a small part of his time dealing with difficult clients. "What I thought was all about plants and flowers is, in fact, actually about people," he says "and they tend to be far more unpredictable than lumps of stone, but the very thing that makes the place special".
Waterperry has suffered in the past from a perception that it's expensive and rather elitist – another myth Simon is keen to dispel. "I want to make Waterperry a place that's non-exclusive but still has an air of quality about it. I want it to be somewhere everyone can come, so putting in things like climbing frames helps to bring families in".
Part of his plans include a major development of the area that used to be full of shrubs and fruit trees for sale. The old walled garden will become a mixture of ornamental, vegetable and cut flower areas to keep the wealth of horticultural knowledge first imparted by Beatrix Havergal – the founder of the Horticultural school at Waterperry, alive.
No-one is more excited about the project than Robert Jacobs who started work as an apprentice at Waterperry in 1979. After working in all departments he decided to specialise in herbaceous and alpine plants, becoming Horticultural Manager in 1993.
"This project reverts back to what Miss Havergal's original plan which was a college to show all aspects of horticulture", Robert says. "Originally the walled garden was intensively planted with what we'd call salad crops today. It wasn't cabbage that kind of thing, it was lettuce, tomatoes all of those and she was turning crops over so it was very intensive growing areas. I'm aware that some of the last people employed by Beatrix Havergal like Chris Lanczak the Orchard Manager are themselves about to retire. You want to keep the knowledge and you want to keep passing their knowledge on and to find an area where you can do that – this project seems ideal".
Timescales for completion are a little vague but both men are passionate it's about getting it right. This is a big project and, as Robert says, only three per cent of gardening is about the setting up – 97 per cent is the actual 'doing'. The staffing needs to be in place to make sure it does what it's supposed to do – inspires and educates visitors about the many different aspects of horticulture.
"I think it will help them understand the horticultural school. The gardens at Waterperry were designed to offer something different throughout the year – from snowdrops to fritillaries, then the saxifrages to the first bloom in the herbaceous border. This project adds vegetable production into what we do – it's about flowers and colour AND bringing missing things back!
"The walled garden is a big space and, as much as many of us would love to have a garden of that size, few of us actually do. Robert and Simon are adamant no one area will be much bigger than a medium sized garden which means everyone can take inspiration from it and recreate it in their own plot back home. It will also be a very valuable teaching tool".
When I ask Simon what success looks like for both Waterperry – and for him – he's modest about the part he personally will play – preferring instead to praise his loyal staff. "I haven't got anything to prove.
"I've just landed the job and had to deal with what I've found so in a way, it would be the easiest thing in the world if I got the sack and went back to being a quite successful stone carver, which would be fine.
"I'm a sculptor by trade so I'd like to think everything I do is about making works of art, so this is a great opportunity. If I've had a hand in this particular work of art then great. I'm happy with that."
And in these safe and immensely creative hands, I have no doubt he'll both make it work but also prove a huge success.
Waterperry Gardens, Waterperry, Oxford OX33 1JZ
Tel: 01844 339226 Open generally 10am–5pm. Hours might differ from day to day.  www.waterperrygardens.co.uk