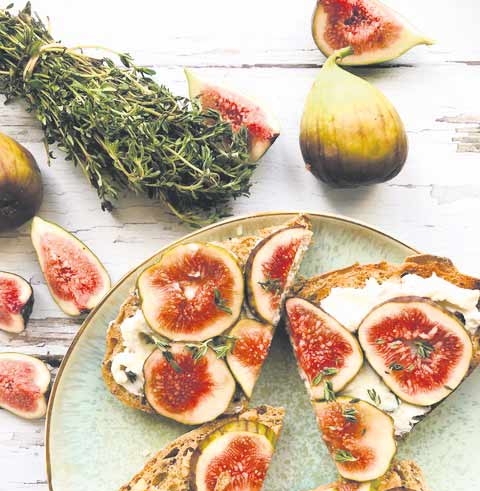 A great source of fibre and full of vitamins and minerals, fresh figs have a long and illustrious history and make a great easy to grow addition to any garden.
While even the best British summer will not guarantee figs to be as perfect as those found in their natural Mediterranean climate, they are still worth growing.
A native to sun-kissed shores, it is hard to find a fig that has either been grown in the UK or transported that can match the syrupy flavour of its Mediterranean counterparts. However, a good UK summer combined with the right choice of tree will produce a fruit that is very versatile in the kitchen and an attractive addition to the garden.
Figs were brought to us by the Romans and for thousands of years have been held in very high esteem – the fig represented the tree of life to the Ancient Egyptians, a symbol of fertility to the Greeks and is the national tree of India.
When choosing a tree it is worth speaking to an expert who can advise on the best variety for individual gardens. Figs are best planted outdoors in the autumn when the soil is warm.
In order to grow the best possible figs – and these may well still be better than those transported and manhandled from overseas – there are a few important guidelines to follow. To best re-create their preferred Mediterranean growing conditions they need a really good position with plenty of sun, preferably a sheltered, south-facing wall. The soil should be rich and well-drained.
Fig trees benefit from having their roots restricted – this allows the tree to concentrate on growing fruit instead of leaves. Either plant the tree in a pot or create a planting pit with rubble at the bottom for drainage. Figs happily grow in a pot in a greenhouse or warm porch, and will still produce a lot of fruit if they are pruned and watered often.
Figs grown in an unheated greenhouse usually produce two crops a year, although the second crop is often dependent upon a hot summer. The first ripe figs usually appear in early summer and will ripen a few at a time so it is important to check them every day, and also to make sure the birds aren't beating you to them. Figs grown outdoors usually only crop once at the end of the summer.
At the end of the season remove larger fruits that are not mature enough to ripen, this leaves the tiny fruits at the shoot tops to ripen the next spring. Ideally fig trees should be moved to a greenhouse or indoors. If this is not possible protect the tree with fleece or straw during the coldest spells.
Figs are ready for harvesting when the skin is soft and delicate, with a sugary tear in the eye of the fruit.
In the kitchen
Although probably best eaten straight from the tree, figs can be used in the kitchen for numerous sweet and savoury dishes. The skin is eaten and they must be eaten ripe. If they are too firm they can be ripened in a warm spot set apart as they will mould when touching.
In savoury dishes they are a perfect match for cheese, especially blue varieties, goat's and any type of soft cheese. Other good savoury partners are air-dried, salty or smoked ham, and nuts. Make a simple salad with leaves, quartered figs, slices of prosciutto, crumbled blue cheese and toasted hazelnuts.
The leaves are very useful for wrapping fish and cheese to go on the barbecue, and also make a decorative base on which to serve cheese. They can also be used to make fig leaf syrup, or macerated in alcohol to make fig leaf gin or vodka, for ice cream or panna cotta.
The fig's innate sweetness means they are more often used in the sweet dishes, although they do not suit pies or crumbles. They do, however, work beautifully in an open tart such as a tarte tartine.
Figs love some extra heat. A compote is a quick dessert or breakfast – simmer roughly chopped figs with honey, lemon juice, fresh thyme and a splash of water. Alternatively poach the whole fruit in red wine flavoured with lemon zest, honey, vanilla, cloves and star anise. Pierce the fruit a few times with a cocktail stick and cook for around 20 minutes until the skins are tender. Remove the figs and reduce the liquid by boiling for ten to fifteen minutes until syrupy. Serve poured over the figs with yoghurt.
Roasted figs with honey and Greek yoghurt
Serves 6
INGREDIENTS:
6 figs
6 tbsp honey
50g thick Greek yoghurt
2 tbsp icing sugar
½ tsp vanilla extract (or the seeds scraped from half a vanilla pod)
METHOD:
1. Heat the oven to 200°C/gas mark 6.
2. Cut an X into the top of each fig and squeeze gently to open it up. Trickle a little honey into each fig – reserve about half of it for serving – place in a tin and roast for 10-15 minutes, until hot and bubbling.
3. Beat the yoghurt, icing sugar and vanilla until smooth. Spoon some of the mixture into the top of each fig and trickle on some more honey just before serving.
Filo-baked fresh figs with goats cheese
INGREDIENTS:
6 large figs
125g soft goats cheese
2 tsp ground black peppercorns
59g melted butter
6 sheets filo pastry
Handful chives, snipped
METHOD:
1. Heat the oven to 200°C/gas 6. Slice the stems off the figs and score a deep cross shape into each, cutting two-thirds of the way through. Squeeze each fig a little at the base to open them out a bit.
2. In a small bowl mix together the goat's cheese and black pepper, and divide equally into the middle of each fig.
3. Cut the sheets of filo into quarters, brush each piece with melted butter and stack. Put the stuffed fig in the middle of the filo squares and draw up the sides around it – the fig should be surrounded not covered.
4. Line a baking tray with baking parchment and bake for 12-15 minutes until the pastry is crisp and golden.
5. Allow to cool a little before eating. Sprinkle with the snipped chives just before serving.
Mediterranean fig & mozzarella salad Serves 4
INGREDIENTS:
200g fine green beans, trimmed
6 small figs, quartered
1 shallot, thinly sliced
1 x 125g ball mozzarella, drained & ripped into chunks
50g hazelnuts, toasted & chopped
Small handful basil leaves, torn
3 tbsp balsamic vinegar
1 tbsp fig jam or relish
3 tbsp extra virgin olive oil
Sea salt & freshly ground black pepper
Method:
1. Blanch the beans for 2-3 minutes in a large saucepan of salted water. Drain, rinse in cold water and drain.
2. Arrange on a platter. Top with the figs, shallots, mozzarella, hazelnuts and basil.
3. In a small bowl or jam jar with fitted lid, add vinegar, fig jam, olive oil and season. Whisk or shake well and pour over salad just before serving.
(Recipe: Good Food)
Figs on toast – two ways
Figs and almond butter
INGREDIENTS:
2 slices sourdough bread
2 figs, sliced
Almond butter
Cinnamon
Honey
METHOD:
Toast the bread. Spread with almond butter. Top with sliced figs and finish with a drizzle of honey and a sprinkle of cinnamon.
Figs and whipped ricotta
INGREDIENTS:
2 slices sourdough bread
2 figs, sliced
4 tbsp ricotta
1 tbsp honey
thyme leaves
METHOD:
Toast the bread. While it is toasting mix together the ricotta, honey and thyme. Spread the ricotta on the toast, top with sliced figs and finish with thyme.