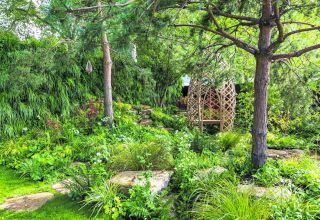 The University of Bristol's Botanic Garden is to be given the garden that was crowned best in show at the RHS Chelsea Flower Show in September.
The Guangzhou China: Guangzhou Garden, which also won a gold medal at the show, will be rebuilt at the botanic garden and unveiled next year. Guangzhou has been twinned with Bristol since 2001, and in 2013 a Bilateral Agreement was signed between the city and Bristol.
Inspired by the holistic landscape stewardship programme of environmental planners in Guangzhou, the garden features a pool of water, trees, shrubs, shelters, green foliage, and white, blue and yellow perennials.
The garden also highlights the benefits of responsible city planning and how planners must work in harmony with nature to better connect people with the natural world. With a focus on climate change, it's an eco-garden with an aim to make a difference. It was designed by Peter Chmiel with Chin-Jung-Chen.
The rebuilding of the garden at Bristol Botanic Garden will be a highlight of the 21st anniversary year of the sister city relationship between Bristol and Guangzhou. The twinning of the two cities brings together governments, universities, businesses and citizens to partner on policy, trade, research and education with an emphasis on sustainability and environmental issues.
In 2016 a Kapok flower sculpture was unveiled at the Traditional Chinese Medical Herb Garden in the botanic garden to mark the 15th anniversary of the twinning, the Kapok being the official flower of Guangzhou.
The gift of the garden reflects both the strength of the city's twinning with Guangzhou and the university's excellent links with Guangzhou's institutions, including between the staff at Bristol Botanic Garden and those in Guangzhou Gardens.