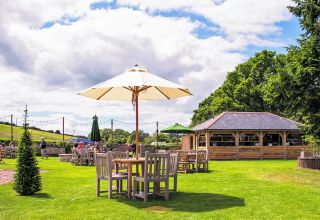 The importance of a welcoming pub garden wasn't lost on the new owners of the Prymore Inn near Bridport which has just won the CAMRA Pub Garden for the year.
The pub was sold and closed and then totally refurbished with special attention given to the garden. A large fir tree dominates the large grassed open area that was once predominantly a car park with central features including a large, raised fire pit that is frequently lit, and to cater for outside functions a large timber clad outside bar which apart from dispensing cask ales also has a pizza oven.
The garden is enclosed by the original grade II listed red brick boundary wall with seating available in shaded areas if preferred on the half gravel, half lawned areas.
The pub itself is ivy clad and complements the pretty garden which has shrub boarded areas with potential for further planting.