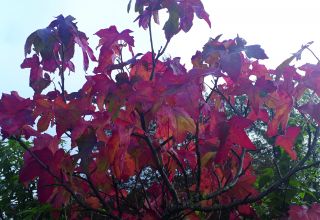 Discover how to create winter excitement and colour in your garden with designer and plant specialist Carol Smith.
Winter gardens can be beautiful, but during these gloomy grey months many are desperately short of the wow factor. The cold weather and these days too much of the wet stuff leaves plants dead and dreary; there is little to entice us outside. A nice cup of tea, comfy chair and a copy of Country Gardener tempt us to abandon the garden, so we stay in and turn a blind eye or gaze out at an empty space, longing for the yellows, blues, and purples of spring bulbs as they herald the onset of a new gardening year.
But it doesn't have to be like this. With thoughts focussed on the winter months use this time to plan for next year. The drab and dreary can be transformed and your winter garden can give as much pleasure as any other time of the year!
Creating a winter garden entails thinking about colour in the form of foliage and berries, the overall shape of individual plants and scent. The spirits lift as we picture and plan the new vision for next winter knowing that the dull winter garden will be a thing of the past. But where to start?
First things first, get the kettle on and make that cup of tea, grab some paper and a sharp pencil – there's a lot of writing to do! Begin by assessing the garden. A quick garden visit to take some photos to be used as a visual aid starts the process. With a layer of tracing paper over a photo, simple plant shapes such as triangles, columns, mounds, and ball shapes can be sketched where there's a gap or sense of something missing, as plant ideas forming the new garden will start to appear on the paper.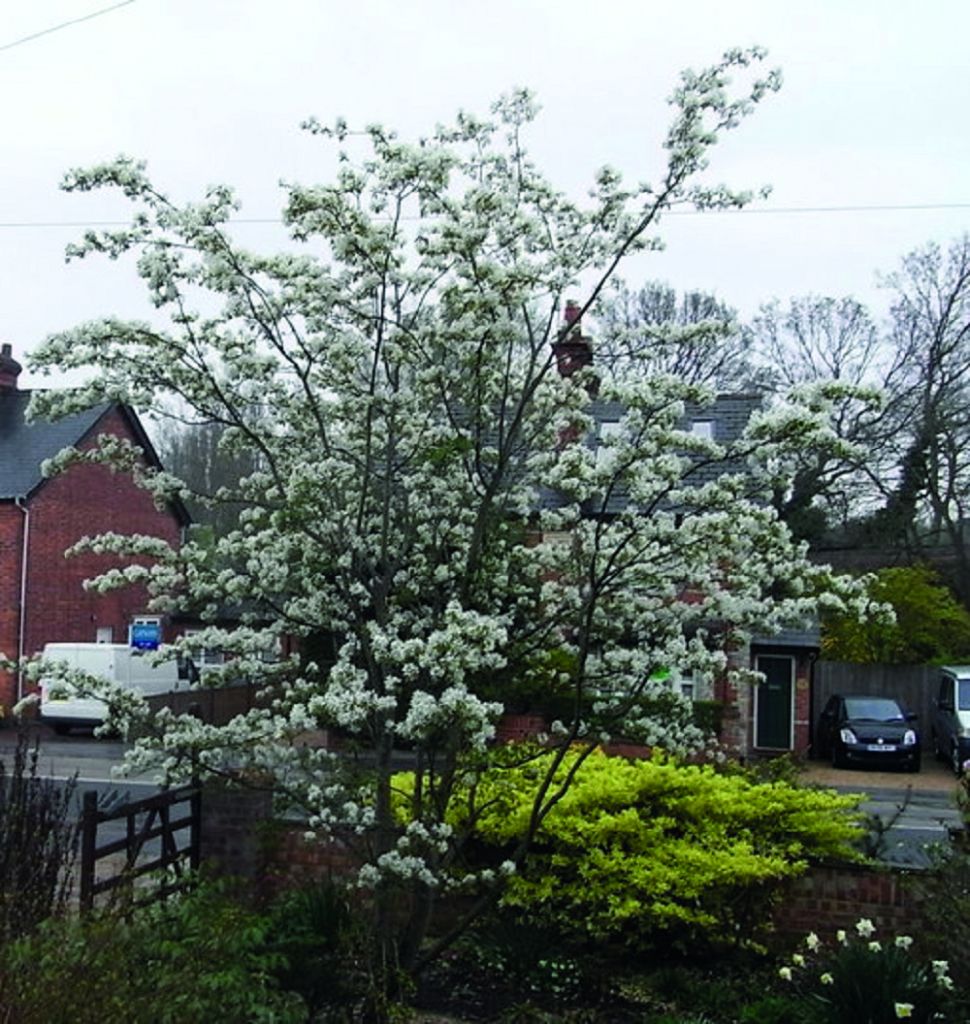 Be frank and note down what you dislike about the garden, define what's missing….. is it a lack of colour, interesting shapes, or does it look empty and bare? Deciduous shrubs and trees will have lost their leaves for the winter, perhaps having provided brightly coloured berries for the birds and fantastic autumn foliage colour, so by comparison the garden may be looking distinctly beige and grey. Amelanchier, Prunus and Sorbus are among the best small trees to light up the autumn months with their warm yellow/orange glow, not forgetting of course the Acer family at centre stage in a shady spot.
Introducing some colourful evergreens is a very effective solution to the 'bare' appearance. Conifers have fantastic architectural shapes which give strong winter structure, are easy to grow and come in a wide range of colours such as the bright emerald green Thuja 'Smaragd', the cool steel blue of Juniperus 'Blue Arrow', or sunny gold of Cupressus 'Goldcrest'; all keep a lovely narrow based conical shape even when mature, so are suitable for a large or small border. If your garden is a good size, all three could be planted in a group for a permanent structural feature and splash of colour, the bonus being that they are great for secluded bird nests and the small cones provide seeds as a food source.
Evergreens also come in the shape of shrubs. Medium evergreen shrubs such as the deep blue Pittosporum 'Tom Thumb' or late winter/early spring flowering Hebes such as Hebe 'Hagley Pink' with its plain green foliage, or variegated varieties such as green Hebe x franciscana with intense purple flowers will give permanent structure and mid-height through the centre of the border. The Cornus family provide stunning winter stem colour, two of the best being Cornus alba 'Siberica' for red stems and Cornus 'Midwinter Fire' for bright orange stems.
Now we've got strong permanent shape and foliage colour in the garden let's add some scent. Larger winter flowering shrubs such as the yellow and orange spidery blooms of Hamamelis and creamy white Lonicera nitida are more suited to the back of the border, which planted alongside green Sarcocca confusa will make your garden smell like a perfumery!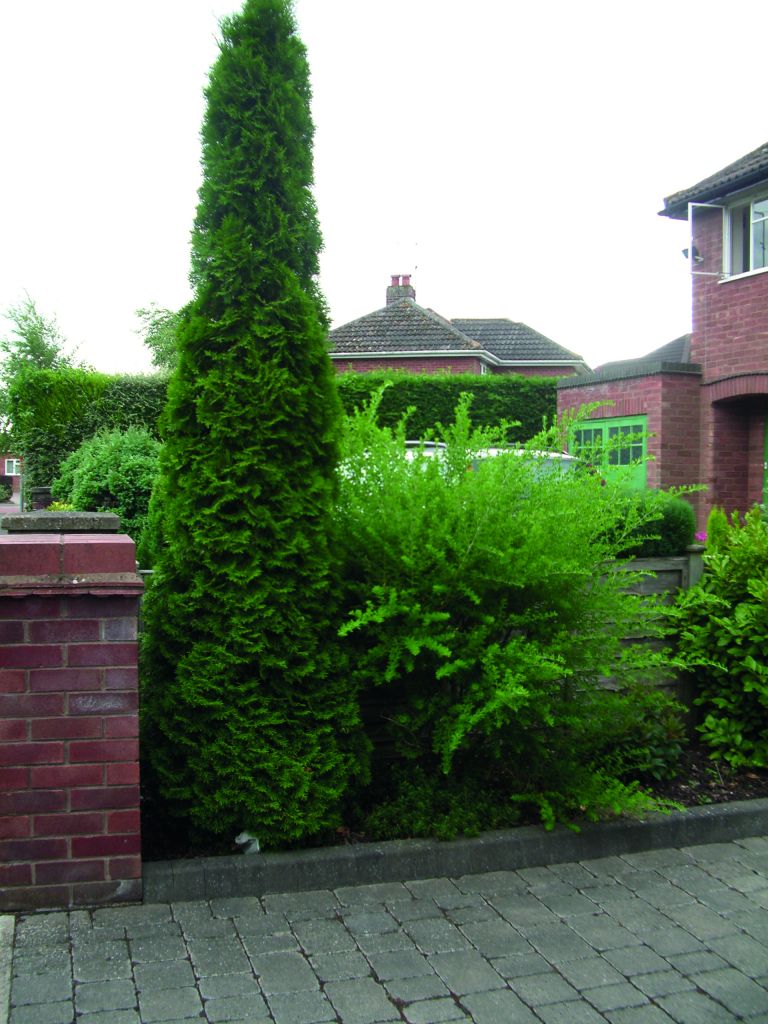 Trees, shrubs and conifers can appear rather 'static' and need other delicate plants to soften them and add movement. Ideal for this are decorative evergreen grasses such as wispy Stipa tenuissima, orange streaked Carex testacea and Carex oshimensis 'Evergold'; at the front of a border, edging a pathway or planted in gravel they sway in the winter winds and make a lovely contrast to other plants.
Heathers, Ajuga and ivy make colourful ground level planting, used in containers with autumn and spring flowering cyclamen they add a warm welcome by the front door or splash of colour on the patio, underplanted with other spring bulbs a container can provide interest for six months of the year.
For a second wave of late winter/early spring colour, plant tulip, narcissus and crocus bulbs in autumn for a colourful display that invites us to venture out and walk around the garden as we're slowly coming out of hibernation! Although if you get it right, a walk around your winter garden will be as enjoyable as any other time of year.
If all this sounds rather expensive or overwhelming, start by picking an area that is particularly bare and dull. Create a small plant group of one colour, one large shrub for scent, one large shrub or tree for autumn foliage colour and berries, two medium evergreen shrubs and some heathers, small evergreen grasses, and bulbs for the front. This collection will create a striking focal point plant group in the garden and is a great start. Over time other bare patches can be developed in the say way, gradually increasing the winter wow factor in your garden.
It always helps to know where to get good healthy plants, and Google is a minefield! I would recommend having a good look around your local garden centre, armed with a list of the plants you want – there's always somebody to help. Most garden centres have a wide range available and most nurseries offer an online service these days.
Finally, some good books for winter research: Designing with Grasses by Neil Lucas, Gardening with Conifers by Adrian Bloom, The Winter Garden (Hilliers Gardener's Guide), and Best Winter Plants by Stephan Buczachi will provide many hours of interesting reading. For inspiration in wheelbarrows take a trip out to gardens with specific winter garden areas – Dyrham House near Bath, Sir Harold Hillier Gardens at Romsey, Hampshire, RHS Rosemoor in Devon and RHS Wisley will all have something to add to your list.
This winter put all thoughts of your garden being dull and uninteresting to one side and take some time to plan and transform it for next winter. It's not too late to make a start and get some autumn planting in now. As all traces of summer flamboyance disappear, waiting for your new winter garden to reveal itself is thrilling, as you anticipate the fruits of your labour.