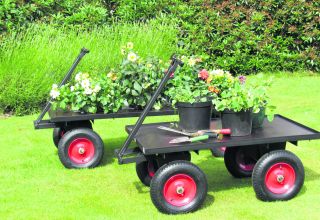 The British built Four Wheel Turn Table Trolley is the go-to trolley that becomes an essential part of many garden tasks, whether it's transporting plants, compost, tools, or being used as a handy flat surface. The FBT2 is ideal when working on your knees, as the trolley's contents are easily accessible, as opposed to a wheelbarrow that requires you to strain or stand up to get items in and out.
Each of the four wheels is the size of a wheelbarrow wheel, which allow the trolley to go off-road or on grass without getting stuck. The design of the handle allows the cart to be pulled by hand or towed by your ride-on mower.
SCH Supplies Ltd follows old-school manufacturing techniques that produce a highly durable product that is simple to service and maintain-a heavy-duty welded steel and a trolley that will last countless years.
Contact SCH for a free brochure or call 01473 328272, email sales@schsupplies.co.uk, or visit www.schsupplies.co.uk