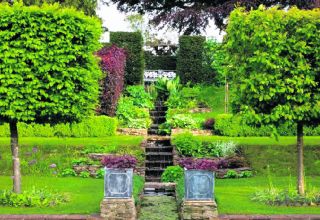 The owners of five beautiful private Cotswold gardens have allowed them to be filmed to raise funds for Cirencester charity The Churn Project.
A virtual tour of each garden, given by its owners, were filmed this summer by local multimedia company Cotswold TV.
The first garden in the series is Daglingworth House near Cirencester, created over the past 25 years by owners David and Etta Howard.
Viewers can join them both on a virtual tour by visiting bit.ly/31yLFlg
A short trailer gives a taste of this gorgeous private garden, with the full 30-minute film available to view for just £5.
All proceeds will go directly to help fund the vital work being done by The Churn Project.
The Churn Project supports young families and those at risk from isolation and loneliness in Cirencester and surrounding villages.
The challenges presented by the Covid-19 pandemic have put an extra burden on the charity, with demand for its services increasing markedly.
It is hoped that the Cotswold Gardens On Tour initiative will generate funds to enable the charity to meet this extra demand and continue to help local people.