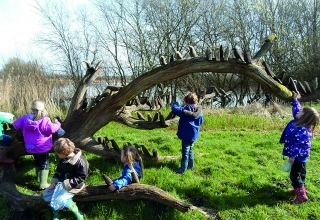 Scientific studies show how valuable wildlife is – not only giving us a sense of wellbeing but which can give real health benefits
---
What many of us already knew, the scientists are now re-enforcing. Wildlife really is good for us. Getting out and about to experience the natural world gives real health benefits to the body and to the mind.
Studies have shown that regular contact with nature can help improve and maintain good health, alleviate stress and mental health problems, and help recovery from illness. Living close to the natural world will improve children's wellbeing as they grow up, help their concentration and self-discipline, and behavioural symptoms of attention deficit disorder are reduced when children play in natural environments.
Older people can benefit, through gardening, walking, hobbies such as photography or birdwatching, and for those who are no longer active, or are in hospitals and residential homes, views of the natural world outside can have real long term benefits, the medical evidence has shown. Patients with Alzheimer's have been less troubled when having regular access to a garden.
It has also been demonstrated that community life can be strengthened by more contact with nature and in natural surroundings; even violence and crime can be reduced by more contact with the natural world.
Studies have shown that hospital patients with views of nature need fewer painkillers following operations, have less post-operative problems and quicker recovery times. Research has also shown that people's stress levels fall within minutes of contact with nature.
Drop-out rates for 'health walks' programmes are much lower than for people attending gyms. Physical activity such as walking and jogging taken in natural environments, have proven benefits to mental health, depression and self-esteem.
Watching television programmes on wildlife can be relaxing and informative, but there's nothing like getting out there to enjoy the countryside and the coast.
The Woodland Trust and the wildlife trusts round the country have been active in getting people to think more about the benefits for their health by being more in contact with the natural world and wildlife.
"The natural environment is important not only for the benefits to physical health, but also mental health," the Woodland Trust says in a policy paper, 'Healthy trees, healthy places'.
"Trees and woods can have a restorative and therapeutic effect on the mind.
"Classic studies of hospital patients found that they recovered more quickly with a view of trees and nature from their windows. More recent research has found that trees enhance mood, improve self-esteem and lower blood pressure.
"Research in the Netherlands and Japan indicated that people were more likely to walk or cycle to work if the streets were lined with trees. They are also likely to live longer and feel better as a result."
Millions of people benefit from the work of the Wildlife Trusts every year. From their nature therapy projects to improve mental health to urban regeneration programmes that bring nature back in built-up areas, the wildlife trusts say that people are at the heart of what they do.
Their report, 'Feel Better Outside, Feel Better Inside', endorses the facts that there are tremendous health benefits for everyone for more contact with nature.  The Wildlife Trusts run a range of projects across the country designed to help improve physical and mental health and contribute to a sense of well-being. They work in partnership with local NHS Trusts and health charities such as Mind to offer access to nature as part of the therapeutic process.
All over the UK, the Wildlife Trusts are working to make wildlife and green spaces more accessible to urban communities, while also connecting people living in rural areas to their local landscapes.
On average, children in Britain are watching more than 17 hours of television a week, while another 20 hours a week are spent online, taking a significant amount of time away from outside play. Research shows that exposure to wildlife during childhood can have a significant impact upon an individual's attitude towards the environment.
Yet opportunities for children to participate, play and engage in wild, green spaces are deteriorating. Less than ten per cent of children today ever play in natural areas, compared to 40 per cent of today's adults who did.
Specific projects to involve people with natural surroundings have included the Youth Wellbeing programme organised by Wiltshire Wildlife Trust, the Communities and Nature project run by Avon Wildlife Trust, and the Brownsea Island Conservation Project organised by Dorset Wildlife Trust. All over the country the trusts are aiming to get children and adults out to gain the real health benefits of being not only closer to nature but with others in a group.
The Folly Farm Centre is a nature reserve owned and managed by the Avon Wildlife Trust, 250 acres of unspoilt countryside at Stowey, between Bath and Bristol, with rare wildflower meadows and splendid views of the Mendip Hills. It's a great day out for the family and for individuals alike.
The ethos of places such as Folly Farm Centre is to promote better understanding of biodiversity and sustainable development, engaging with the business community, school children and the general public. It is just one part of what the Trust does, in line with others throughout the UK.
The kitchen garden at Folly Farm has been developed to provide access for all, with opportunities for different community groups, such as adults with learning difficulties and mental health issues, older people who may be feeling isolated and young people not in employment or education.
Children in inner cities, where chances to explore nature may be limited, are set to benefit from regular outdoor opportunities designed to stimulate creativity, imagination and investigation with the wildlife trusts, thanks to a £500,000 cash boost from players of People's Postcode Lottery.
Following the success of three (People's Postcode Lottery player supported) Forest School projects across Lancashire, Leicestershire and Birmingham, many more children will now enjoy regular Forest School sessions in London, Nottinghamshire and the Bristol area throughout 2016.
Developed from the Scandinavian model of learning through play outdoors, Forest Schools get children outside and exploring nature in their own way and at their own pace. From fire-lighting to cooking, woodwork to bushcraft and natural art, they learn about the natural world in a safe environment.
---
There is compelling evidence that contact with nature can:
maintain good health
help recovery from illness
alleviate stress and mental health problems
improve physical health
improve quality of life for older people
enhance social interaction and improve community cohesion
reduce aggression, violence and crime
improve children's well-being into adulthood.
---
To find out more about the wildlife trusts and more about the trust in your own area, visit the national website at www.wildlifetrust.org and follow the links, or for general enquiries phone 01636 677711.
For more on the work of The Woodland Trust go to www.woodlandtrust.org.uk  and follow the links or if you'd like information and to find about one of their woods, phone 01476 581111.