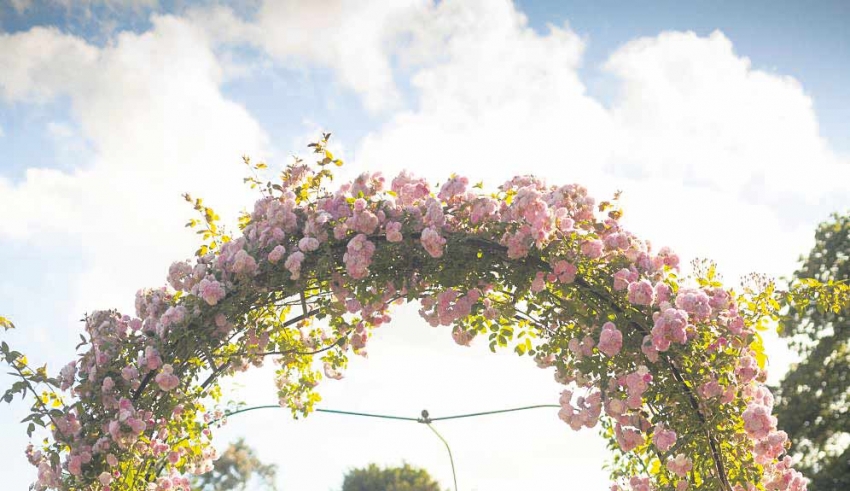 Even a small garden arch can add height and drama but it's the choice of plants or even vegetables which is key.
It is easy to concentrate on beds and borders when you're planting your garden, but making use of vertical space is a great way to add drama.
Adding an arch is one of the quickest ways to give height as well. It also provides a place to grow and enjoy climbing plants such as roses, clematis, honeysuckle and many others.
The key is to avoid plants that become too vigorous and to choose those that grow well together as partners.
Some deciduous honeysuckles or clematis (evergreen kinds are generally too vigorous) but grow well with roses as do herbaceous climbers such as perennial pea (Lathyrus latifolius).
Garden arches have been important landscape elements for centuries.
Over time they have been fashioned from materials including wood, stone, metal, plastic – or even trees or shrubs trained, tied and clipped into arching configurations. Arches can fulfil several important landscape functions: supporting plants, serving as garden focal points, and framing desirable views.
A sequence of arches can be used to delineate a garden walkway.
The choice of style and material depends on the purpose of the arch as well as the overall style of the garden or landscape.
But it is the choice of plants that really makes the difference. Not all arches support plants, but when they do, plant choice should be governed by the situation (sun or shade), the style of the garden and the size of the arch. Large vines like wisteria need extremely solid, heavy arches to support their significant weight. Smaller arches can support climbing roses, clematis and other climbing shrubs, perennials and annuals.
Wisteria is a cottage garden favourite and its lavender, violet, pink or white flowers bring an elegant beauty to the spring garden. Both wisteria floribunda 'Royal Purple' and 'Alba' are vigorous climbers and need to be planted against a large, sturdy structure in a sunny position. Always buy a named variety grown from a cutting or grafted as these are much more likely to flower within three or four years.
Perennial climbers like clematis and honeysuckle (Lonicera) come into their own in the long summer months. Clematis flowers range from the dainty white bells of Clematis 'Albiflora' to the extravagant late summer blooms of clematis 'Jackmanii', while delicate tubular lonicera japonica flowers fill the air with fragrance. Clematis 'Andromeda' has dramatic semi-double flowers and prefers a shady spot, whereas clematis 'Rebecca' produces its most vibrant flowers in full sun and is equally happy planted in the ground or in a container.
Summer annuals are perfect to add splashes of colour to trellis panels, posts and arches. Try growing Black-eyed Susan (Thunbergia alata) and Morning Glory (Ipomoea) from seed for flowers with big impact on a small budget.
Vertical growing isn't restricted to ornamental plants – many edible crops can be grown against a fence or up an arch. Courgettes and squash can be grown this way. One favourite squash to grow over a sunny arch is the long, sweet and extremely prolific tromboncino.
Nasturtiums also thrive when trailing up supports, providing edible leaves, seeds and flowers throughout the summer.
For a more permanent display, train a fruit tree against a vertical support into a cordon, espalier or fan to provide architectural interest in winter, blossom in spring and fruits in autumn.
Two of the best climbers for dramatic autumn foliage are the ornamental Vitis vinifera 'Purpurea' with its deep burgundy-purple leaves and Parthenocissus henryana – a less vigorous relative of virginia creeper but with similar fiery crimson foliage in autumn.
Cotoneaster horizontalis provides autumn and winter interest with sprays of vivid berries that attract birds like fieldfare and waxwing into the garden.
Pyracantha also has attractive berries and its branches provide nesting sites for birds during the breeding season.