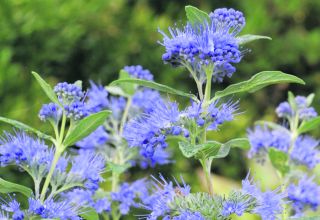 Whilst it may seem strange to be thinking of planting as the gardening year draws to a close, it is a really good time to plant shrubs and hardy perennials. The soil is still warm, and the autumn rains will help to the plants establish quickly ready for next year's display. Developing a good root system is key to success for shrubs and hardy perennials and planting in warm autumn soil is far kinder to the plants than the chilly spring ground.
That's the advice from popular Ireley Hardy Plant Nursery, a small independent nursery north east of Cheltenham specialising in hardy perennials and shrubs.
And while most shrubs are thinking of winding down by now there is still colour to be had – from the electric blues of the Caryopteris 'Black Knight 'to the pale pinks and reds of the Weigela 'Nana Variegata' and Weigela 'Briant Rubidor'. And it's not all over for the herbaceous perennials either – the salvias with their two tone colours of red and white (Salvia 'Hot Lips') and purple and white (Salvia 'Amethyst Lips') along with the pinks, reds and purples of the penstemons and the vibrant oranges and yellows of Rudbeckia 'Prairie Glow' 'and Rudbeckia 'Blackjack Gold' will provide colour until the first frosts. Adding a few of these autumn staples to your borders will prolong the flowering season as the garden winds down for winter.
Ireley Hardy Plant Nursery, Broadway Road, Winchcombe, Greet, Cheltenham GL54 5NY Tel: 01242 604160 www.ireleynursery.co.uk