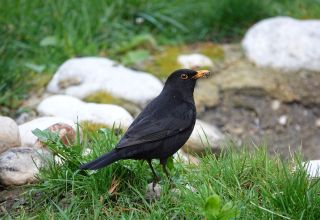 RSPB's Big Garden Birdwatch is the largest garden wildlife survey in the world and provides a snapshot of how garden birds are faring in the UK. In 2022, nearly 700,000 people across the UK took part, counting 11 million birds.
The RSPB is asking everyone to make a date in their diaries for the 2023 survey felt by some to be the most important one.
The world's largest garden wildlife survey returns to, with hundreds of thousands of people watching and counting the UK's garden birds over the last weekend in January for the RSPB's Big Garden Birdwatch.
Nearly 700,000 people took part in 2022, counting 11 million birds.
This year's event takes place on 27th, 28th and 29th January next year. People in the Cotswolds are asked to spend just one hour watching and recording the birds in their garden, balcony or local park, then send their results to the RSPB.
This year marks the 44th Big Garden Birdwatch. Starting in 1979, it has since become a much-loved annual event that helps give the RSPB a valuable snapshot of how our garden birds are doing in the UK.
www.rspb.org.uk/get-involved/activities/birdwatch/birdwatch-your-results/