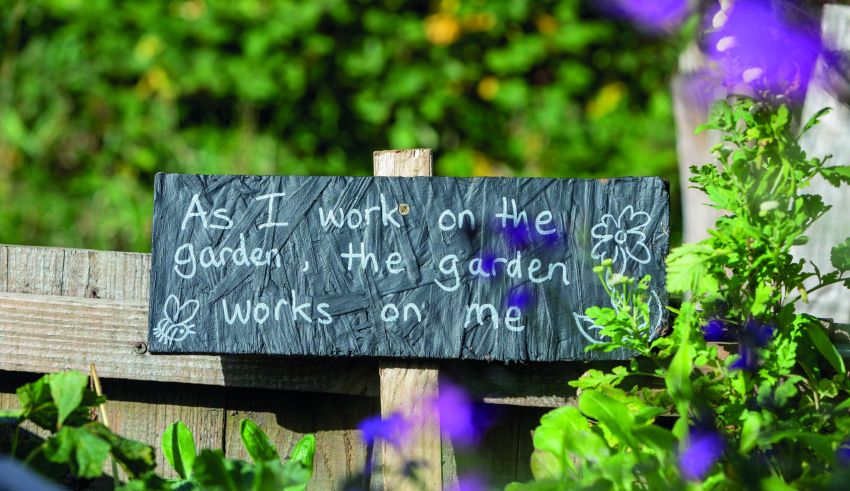 Annie Davies has been inspired by her 82-year father Stan who despite his arthritis and partial blindness has worked out a way how he can keep gardening in his Devon home.
I thought my father who is now 82, would give up gardening when his arthritis started becoming a real problem about six years ago. But it meant too much to him to be out in the sun and getting his hands dirty in the garden – and growing things.
Then, three years ago his eyesight started really to deteriorate, and I thought, right, this is the end of his gardening. But my dad – his name is Alfred 'Stan' Jenkins -sat down and thought about how he could keep on gardening.
Doctors tell us that gardening is a therapeutic activity that fortifies the mind, body, and spirit. I am a gardener and I've always known that the sun and soil that gives life to our plants also facilitate growth in our own lives.
But when we get old do we give up too soon? Do we just pass the garden on to someone else and sit indoors and watch rather than do? What happens as we age or become ill and we become suddenly unable to provide for the garden that's given us so much?
Simple. If it is at all possible then keep going and create a garden which you can still work in! It almost certainly will involve you making changes, using different equipment and adapting, but as my dad has discovered it is worth it.
Of course, he can't garden the way he used to, and I suppose being sensible about it, his gardening hours are down to about half of what they used to be. But he gets out there on sunny and wet days and without being over sentimental, it has given him something extra to go on living for.
My dad spent most of his life as an architect in and around Manchester before moving to Devon to retire, so he had a bit of a head start when it came to thinking about exactly how he could keep his gardening going.
With the help of his youngest daughter (me) and my husband and teenage kids he made straight pathways and landmarks. He built ground-level borders and beds that are no more than three feet in width. The object was to allow him to reach the centre of the bed area from either side. He knew enough about gardening to think about grouping plants by colour and by scent. Obviously, gardens for blind people should appeal to a sense of smell; the distribution of scent can aid in locating different areas of the garden as well as providing a fragrant garden. Using wind chimes or waterfalls helps him to guide with sound. 
He changed his gardening tools to short handles whenever possible. This allowed him to cultivate with one hand while leaving the other free to explore the garden. The visually impaired should never have to go searching for tools. He uses tool pouches or buckets so they can be carried along. Tying short ropes to handles can help recover dropped or misplaced tools.
He has real trouble kneeling and getting up and down so has had to work that out as well.
If you find it difficult to kneel or have trouble getting down and up again, or you struggle to lean forward to tend to raised beds then it puts you off gardening. So, he gets round it by using a kneeler for his knees, with a stool to lean on directly in front. He got the idea from another arthritic gardener. He uses the stool to lever himself down and back up again whilst leaning on and over it to dig, plant and weed.
Secateurs are impossible to use because of his arthritis, so he has some cordless electric ones. They are quite a lot more expensive than ordinary secateurs and slightly heavier due to the battery. They are activated by a trigger which is easier to pull. Again, a shared idea from another disabled gardener.
He developed a way of never having to use a watering can by adapting a garden sprayer which might have been used for chemical spraying bhut which he fills with water.
There is a disabled gardening community which like my dad has worked things out and so far, succeeded in getting round some of the things which might stop others from gardening because there were no options.
You can buy special disability friendly versions of most gardening items; however, he has found that adapting what you already have is much cheaper and, because it is personalised, the result often works better too.
The message here is simple.
If you love your garden, there's always a way to keep on keeping on. 
---
The Gardening with Disabilities Trust aims to help people keep gardening in spite of disability. They give out grants so that people can adapt their gardens.