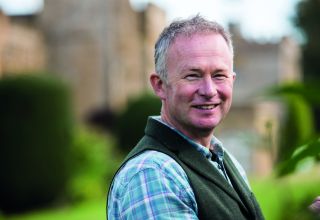 Friday, 29th & Saturday, 30th April 10am-5pm
The two-day popular Toby Buckland Garden Festival at Powderham Castle returns to its traditional spring dates for a show bursting with plants.
Toby's Garden Festival, now in its eighth year, returns to Powderham Castle in the picturesque village of Kenton, near Exeter, on Friday, 29 and Saturday, 30 April for one of the highest profile garden shows in the south west.
The popular gardening bash, which annually brings over 6000 visitors to the 14th century castle and deer park, is hosted by TV gardener, Toby Buckland, with two days of gardening talks and demos, plus a fabulous opportunity to get your hands on the best plants from local and award-winning growers.
New for 2022, is the return of the popular VIP experience in the music room and library of the castle, along a new Tea in the Castle ticket where guests can kick back after a busy morning at the festival.
Toby says: "After our summer festival last year, it's great to be back at the start of the growing season, just when everything is coming to life. Gardening has never been more relevant, whether growing your own food, or fortifying your wellbeing – and that's all reflected in our inspirational line-up for 2022. Come and join us!"
---
Highlights
Hard landscaping advice
Edward Hitchens, the largest supplier of new and reclaimed bricks and     natural stone in the South West, are creating a display at the festival in 2022. Head here for advice from in-the-know local experts, plus a special show offer of 10 per cent on orders.
Susy Atkins joins us to talk Devon wines
Susy is the Daily Telegraph wine columnist and wine editor of Delicious magazine. Based in Devon she is also well known from her 12 years as one of the wine experts on BBC1's Saturday Kitchen.
Heritage Wood Crafts
Meet talented craftspeople keeping endangered woodcraft skills alive, including Steve Overthrow's riddles and sieves, and John Williamson from Dartmoor Woodcraft demonstrating the ancient art of making charcoal and traditional stave baskets.
Take tea in the Castle!
Take a break in the VIP area of the Castle with tea, coffee and cake from 2.30pm. Tickets £25pp, festival entry included, available from www.tobygardenfest.co.uk
Cheese & wine pairings
Devon artisan cheese-makers, Sharpham Cheese, are here with their award-winning soft and semi-ripe cheeses and Sharpham Wine, all handmade on the Sharpham Estate, and inside advice about cheese and wine pairings.
Recycled furniture
Festival sponsor, Devon Contact Waste, the South West's leading independent commercial waste handling firm will be showcasing their range of 100 per cent recycled plastic garden furniture, including weatherproof seats, tables and benches. Their Zero to Landfill solution ensures that no waste from the festival bins goes to landfill and festival visitors can also bring along their old plastic plant pots for recycling with DCW at the festival.
Crafts and food highlights
The two-day festival is more than just the opportunity to buy plants. We have again one of the strongest line ups of West Country specialist crafts, jewellery, gifts, foods, clothes, gardening tools and more join up to complete the festival exhibitor profile. For a full list on who is exhibiting go to www.tobygardenfest.co.uk
Music and entertainment
Enjoy live acoustic music from talented folk bands and Sunny Side Up Ukeleles; make a flower crown with the talented florists of the British Academy of Floral Art; get a selfie with the amazing stilt walkers, the Higher Beings and tuck into a delicious array of curated artisan street food from local producers. 
---
Plant nurseries to look forward to – plus exciting new exhibitors
The heart of the two-day festival remains the specialist plant nurseries whose high quality, great value plants are a huge attraction for visitors. There is no better time than spring to start planning your garden and deciding which plants to introduce.
The festival has one of the strongest line up of independent plant nurseries in the south west including some new plant exhibitors alongside some regulars at Powderham Castle.
They include:
Alchemy Ferns
Alchemy Fern is based in York, mail order specialists. Working hard to bring you the best quality well-established ferns
Atlantic Botanic
North Devon-based family run nursery growing plants suited to coastal conditions.
Avon Bulbs
A large selection of flower bulbs including snowdrops, tulips, alliums, daffodils, agapanthus and much more for sale online.
Bean Place Nursery
A wide range of hardy herbaceous, hardy ferns and grasses grown in Kent since 1997.
Coach House Cacti – NEW FOR 2022
Dorset- based cacti and succulent nursery. Good news for cactophiles (cactus lovers) who can look forward to seeing award-winning Coach House Cacti exhibit
Dorset-based Coach House is run by David Ennals supported by wife Jane.
Easterhill Herbs & Willow
Local family-run nursery based in Starcoss, growing willow, wildlife and culinary and medicinal herbs.
British Academy of Floral Art
International floristry school based just outside Exeter who are making a giant Flower Crown at the festival.
Gardeners Delight Nursery
Large range of perennials, clematis and shrubs, plus lots of new and unusual varieties, all grown in their North Devon nursery.
Kitchen Garden Plant Centre
Herbs and edibles from seed using organic and sustainable methods grown in Gloucestershire. Over 100 varieties, peat-free compost and locally sourced.
Hen House Farm – NEW FOR 2022
First time exhibitors at this year's festival are Paul and Sandy McEvoy who run The Hen House Farm, near Yelverton in Devon, who not only sell chickens but are on a mission to introduce families, schools and care homes into keeping hens and raising chickens through their hire schemes.
Lilies and Chillies
Based in Cornwall, Lilies and Chillies grows an outstanding selection of perennial plants & bulbs.
Providing Expert Services in Wildlife Ponds, Trees Conservation & Rewilding in Devon. Wildlife Ponds, Tree Conservation & Ecological Landscaping in Devon by Lost Habitat.
Millwood Plants
A hardy herbaceous perennial plant nursery based in the heart of the Taw Valley..
Petrichor Bulbs
A diverse array of spring flowering bulbs.
Piccolo Plants – NEW FOR 2022
Succulent nursery based in Branscombe, all grown on site plus aeonium, echeveria, sedum, greenovia and more!
Tortworth Plants
A popular ever present at
the Powderham festival, Tortworth Plants produce a range of alpines and herbaceous perennials, including some rare and unusual varieties, plus those classic favourites.
Urban & Rural Plants
A nursery specialising in the unusual. Based at Matford near Exeter, the nursery is just a few years old but has a fantastic reputation for quality and range of stock. 
---
Castle Dining Hall Talks
Two days of high-quality garden talks – all free of charge 
Hosted by TV and radio gardening presenter, Toby Buckland, the eighth Toby's Garden Festival will be joined by BBC Gardeners' World presenter, Arit Anderson, and Tim Shepherd, time-lapse cameraman on BBC's Green Planet and many more in two series of specialist talks, lectures and demonstrations.
FRIDAY 29th APRIL
Toby Buckland
'Favourite Flowers from the Festival' – new and exciting plants to get on your radar
Tim Shepherd
The BBC time-lapse cameraman in conversation on the behind the scenes of the stunning filming for BBC's Green Planet
Becks Pearson
Creating a roll of honour for WW2's forgotten Women's Land Army in Devon
James Millman
Home-grown music
The Bideford guitar-maker on how native trees are used to make instruments in Devon, and the quality and sounds each timber brings
Greg Pearson
Tasters and talk with Sharpham Cheese's owner and head cheese-maker
Saturday 30th APRIL
Arit Anderson
The BBC TV presenter shares her 7 Principles of Garden Design with wildlife and climate change in mind
Toby Buckland
'Favourite Flowers from the Festival' – new and exciting plants to get on your radar
Susy Atkins
Wine writer Susy Atkins talks on quality of Devon vineyards

Ade Sellars
Agents of the Field
The award-winning blogger on how to create a productive – and beautiful – kitchen garden
Sara Dance
Breathways' Mindful Gardening
Using breathwork and mindfulness to relieve stress and anxiety
Country Gardener Talks Tent
Expert talks and advice in our Country Gardener Talks Tent – FREE
The Country Gardener Talks Tent will feature specialist talks from gardening specialists,  plant nurseries  on both days. All the talks are in relaxed surroundings and free of charge.
FRIDAY 29th APRIL
David Ennals
Coach House Cacti
Paul Jupp
Meadow in my Garden

Caroline Bawn
Dyeing with plants
Jane Fletcher
Easterhill Herbs
Saturday 30th APRIL
Paul McEvoy
Hen House Farm
Chris Ireland Jones
Avon Bulbs

Amelia Cooper Smith
Amelia's Flower Farm

Jeremy Wilson
Stretegate Camellias