Make your soil the priority
If you do nothing else in the garden over the next few weeks, then just focus on your soil. Winter is a good time to dig a new border. Leave the soil in clumps. The winter rain and frost will help to break it down naturally. This will also expose any pests to natural predators and the cold.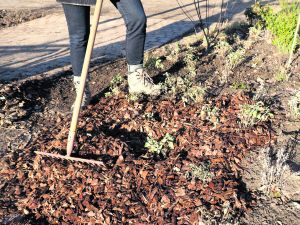 Digging over vegetable plots or preparing new ones can also be done during winter for the same reasons.
You can use autumn leaves as a mulch (cover) during winter weather. If necessary, cover with fleece to prevent wind blowing everything away.
For those with heavy soils, this is the perfect time to dig, so that winter frosts can help break down newly turned clods.
In the vegetable garden, this is the ideal opportunity to work in goodness in the form of organic matter. The contents of the compost heap, well-rotted manure or even composted bark can be worked into the bottom of the trench, where the worms will redistribute it to improve soil consistency. Be systematic: remove a trench a spit deep and take it to the far end of the plot to turn into the last trench when you finally reach it. Fork over the bottom of the trench if your soil is very heavy and add the organic matter in a generous layer before turning in the next spit.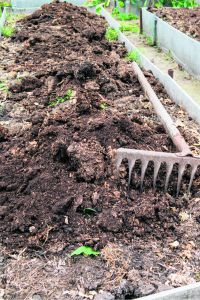 On 'new' ground, where you are preparing beds, you can go through the same process. If it is lawn that you are taking up, turn the sod into the base of the trench where it will rot down, but on weed-infested ground you need to fork out live roots as you go. Super-heavy soils can have a generous layer of sharp grit spread over the surface after digging, but light soils are best dug at the end of the winter and the organic matter spread over the surface now. The mulch will protect the soil from winter rains and can be forked in rather than trenched in late February and March.
---
Winter pruning – the time is perfect
All wild nesting birds are protected by law. These means that you cannot deliberately disturb a wild bird's nest between 1st March and 31st July. For many woody plants anyway, winter is the best time for pruning and it avoids disturbing nests.
Winter pruning often includes plants that need to be pruned very late in the autumn, during winter and some very early in spring. 
Winter pruning often involves woody growth and therefore takes longer and results in large amounts of cuttings. However, by doing these heavy, more intense tasks in winter, you can concentrate on regular maintenance during the growing season.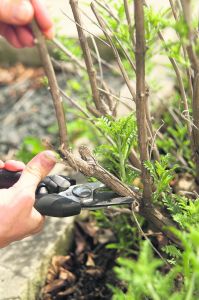 Some woody plants can bleed if pruning is left into the new year. Begin now on those that are prone. Acers, birch and vines fall into that category. Vines can be pruned hard, back to two buds of last year's growth, to encourage fruiting spurs, and – in the case of the ornamental Vitis coignetiae – larger foliage, but acer and birch need shaping carefully, as so much of their elegance is in the delicate growth of the limbs. The key is to shape gently and regularly so that you never have to cut into old wood, feathering growth back to a limb further within the canopy.
Apples and pears, currants and autumn-fruiting raspberries can be pruned any time from leaf drop until March, but never prune stone fruit in the winter, as the retreating sap can draw in the airborne fungus, silver-leaf.
---
Welcoming in the birds
Other than just inviting birds into our gardens for the uplifting effect the have on us, you can also encourage wild birds to visit your patch to the benefit of your plant life too. Birds are fantastic at keeping pests in check. Caterpillars, beetles, grubs, and larger insects like spiders are all part of their diet and some birds absolutely love snails and slugs.
The best thing you can do to attract birds is to leave areas messy. Not only to dead leaves and stems make a great habitat for them, but seed heads are a wonderful food source at this time of year. Of course, they also rely heavily on bird feeders and water sources.
So, these need to be regularly topped up because they soon become a lifeline for birds when the weather turns cold. Birds feed during winter's limited daylight to consume enough food – as much as 30 per-cent of their body weight – to build the necessary fat reserves to survive long, cold nights.
---
Look forward to some early sweet peas
If you haven't already sown your sweet peas, you can do this now under cover. Sown now, they'll give you earlier flowers in greater numbers and a longer season. All legumes, these included, thrive with a long root run, so deep pots or rootrainers are ideal. Water the compost and then push a pair of seeds in to about an inch below the surface. Cover with newspaper to keep moisture and warmth in and light out. Some heat will speed up germination but is not essential. They'll germinate in about 10 days. Watch out for mice, they love them! 
 

Jobs that need doing in winter

1. Don't stop weeding. Hoe off/pull out any annual weeds and dig out perennial ones that are revealed. Compost green foliage, but not seedheads nor perennial weed roots.

2. Keep off wet soil in all parts of the garden to avoid compacting and damaging the structure. If you absolutely have to walk on it in the wet, stand on a plank to spread your weight. This is especially important for clay soil.

3. Garlic can be planted until March.

4. Prepare a 'compost trench' using the old stems from Brussels sprouts, kale and other tough brassicas once cropping finishes. The trench should be about a spade's depth, and positioned where runner beans, or other peas and beans will grow next year. Lay the stems along the bottom of the trench, and then roughly chop them up with a sharp spade. Other uncooked vegetable scraps can also be added. As the veg waste reaches the top of the trench, cover over with soil.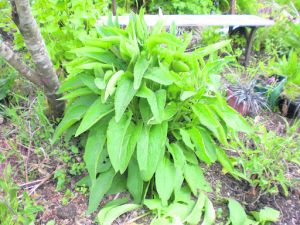 5. Make comfrey leafmould. Cut two thirds of the plant's leaves (leaving the remainder to die down and feed back into the comfrey plant) and fill a container (such as a dustbin) in alternating layers of leafmould and chopped comfrey leaves. This will take up to 18 months to rot down, but it is an excellent medium for seed planting. 
6. Start planning your crop rotation for next season's vegetable plot. If you already have a rotation plan, just make a note of where next year's crops will go. If this is your first year, make a list of all the vegetables you would like to grow. 
7. January seed sowing – try some early sowings in trays. Germination temperatures of around 13°C are adequate, so you need a bright, cool windowsill. Try lettuce, summer cabbage and cauliflowers, plus round varieties of carrots, spinach, salad onions and turnips. If you have a heated greenhouse you can sow greenhouse tomatoes as early as January. 
---
Start forcing rhubarb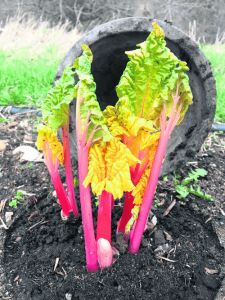 Have a look at your rhubarb and if there are signs of growth you can cover the crowns with terracotta forcers to speed up the growth of tender early pink stems. Alternatively use sturdy black plastic tubs. A little straw inside will help with insulation. Forcing rhubarb produces small, tender stems but it does wear out the plants and they should be allowed to grow naturally for the next two to three years to recover.
---
Keep on growing
Everything doesn't stop in the winter and there's nothing to stop you growing your own. Start by sowing seeds on a windowsill, using the heat from your home to get them off to a flying start.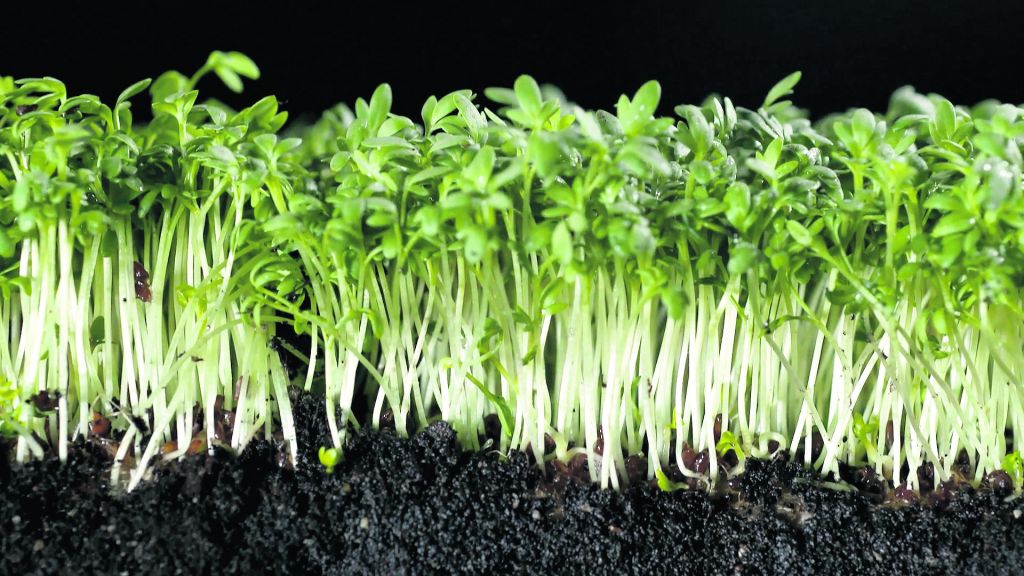 Good old mustard & cress is a great favourite for kids to help with, but there are so many more options you can try! Growing fast-cropping microgreens will give you the best nutritional return on your time. They're a great way to get the growing season started and benefit your health into the bargain.
Try basil, radish or even broccoli, sunflower, beetroot or pea shoots – it's such an easy process.
Use damp seed compost or cotton wool in a small plastic tray. Sow the seeds evenly over the surface, cover with a plastic bag and keep out of direct sunlight until they germinate.
Once you can see shoots, move the tray to the windowsill, remove the bag and spray frequently with water to make sure they stay moist. Once they're about five cms tall, they're ready to eat, so chop them off at the base and enjoy – once harvested they'll keep fresh in the fridge for a few days, or simply cut as required.
Rhubarb is another winter growing favourite. You can plant now if you choose a dry day with no frosts.
---
Salads and herbs to the winter rescue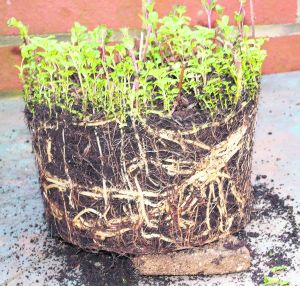 Sow some delicious crunchy radishes, and you'll have a salad feast within six to eight weeks. You can grow all this sort of thing in gutter pipes. It is the best way, especially if you don't have lots of room in your garden and keeps everything easy to look after and under control. Radishes can be picked straight from the gutter – they don't need to see any garden!
You can sow some herbs under cover now too – really hardy annuals and biennials such as chervil, parsley and coriander. Wash the parsley seeds in warm water the night before you want to sow them and then lay them out to dry on kitchen paper overnight. This washes off the germinator inhibitor in the seed coat and will give you a harvest in a shorter time.
Dig up and pot up roots of mint to force early shoots.
There are a few perennial herbs that you could start off now too – French sorrel, chives, lovage and leaf fennel. There's no hurry on these, but with a little bottom heat, they will germinate fine and get you ahead.