Dorset gardener David Leese has a passion for growing autumn raspberries, easier to grow, welcoming cooler weather and harvesting from late summer through to the first frosts of winter.
I love growing, harvesting and eating autumn raspberries.
They are a much better option I believe to their summer cousins and so rewarding to grow.
I favour autumn-fruiting raspberries over summer fruiters for two main reasons. The first reason is the perfect timing of that luscious harvest. Autumn raspberries fruit from late summer right through to the first frosts, so when I'm struggling to keep up with the harvesting demands of ripe red strawberries before the slugs get them, I don't have to worry about what I'm going to do with a glut of raspberries too!
Summer fruiting raspberries crop heavily for a short period, while autumn raspberries crop more steadily over a longer period, so unmanageable gluts aren't such an issue.
The second reason I love autumn raspberries is the pure simplicity of care they need compared to summer varieties.
Did you know?
Unlike many other fruits, unripe raspberries do not ripen after they are picked!
Summer fruiting raspberries, known as 'floricane' varieties, fruit on last year's wood. This means that the old canes need to be cut out every year, while the new green canes are left in place to produce next season's fruit.
Autumn fruiting raspberries by contrast are 'primocanes', meaning they fruit on new wood. Pruning involves cutting down all canes after harvest ends in late autumn, but before new growth begins in spring.
With both types you'll need to remove any suckers that are growing away from the main row, and thin canes out in spring, but training autumn raspberries is simple. While summer fruiting raspberries require a sturdy system of posts and tiers of wires to control those long, arching canes, autumn raspberries are largely self-supporting. A single wire or length of strong string between posts is enough to keep them from leaning over pathways.
And if you want the best of both worlds, you can even double-crop your autumn raspberries. The idea here is that you cut out fruited canes and leave the newer, greener canes to produce an earlier crop next year.
Growing raspberries that fruit in autumn almost completely sidesteps the unpleasant issue of raspberry maggots.
Did you know?
Raspberries rank as one of the top five in the top 10 antioxidant-high fruits.
Hot climates won't do autumn raspberry plants many favours, as they need a good cold winter to produce plenty of leaf growth and lots of bee-pleasing flowers (and thus fruits). Raspberries will take the worst of what the winter has to throw at them and come back raring to go in the spring.
Despite being most comfortable in cooler conditions, autumn raspberries love the sun and will produce their best crops, and ripen most quickly, if they can bask in a bright spot. They are tolerant of shade, however, and in hotter regions shade may even prove beneficial.
Poor, dry soils don't please many plants, and raspberries are no exception. The archetypal moist yet well-drained, rich soil will keep them happy, especially if the pH tends towards being slightly acidic.
Raspberries are suckering plants from the woodland edge which naturally 'walk' as the forest expands to seek out fresh stores of nutrients. This means that those grown in one place within a garden can soon exhaust the nutrients found in the soil, which can result in viruses and other diseases taking hold. To replenish these nutrients it's a good idea to mulch around raspberries with rich organic mulch such as well-rotted compost at least once a year.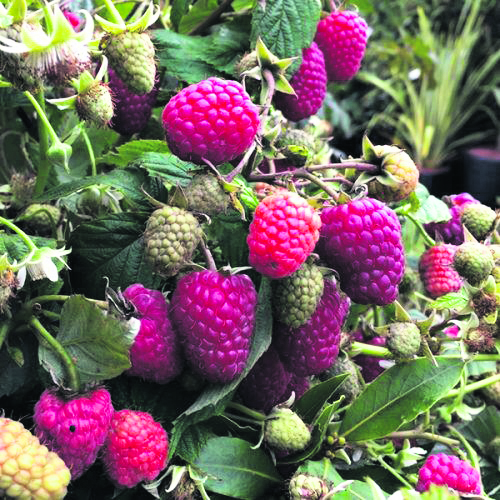 Autumn varieties to try

'Autumn Bliss' good yields of medium – large and deep red fruit with and an excellent flavour. Best in sunny, sheltered site.

'Autumn Treasure' thornless upright canes, large, easy to pick conical berries. It is said to be disease resistant and tolerant of poorer soils.

'Fallgold' yellow fruited autumn raspberry.

'Himbo Top' producing tall canes, strong grower. Berries of good size and flavour. Good pest and disease resistance.

'Joan J' easy to grow, upright habit. High yields of well flavoured berries.