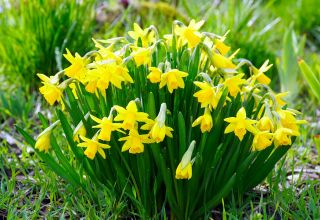 The Cornwall Garden Society's 2020 Spring Flower Show has been cancelled as a precautionary measure in the wake of the Coronavirus (COVID-19) pandemic, which is resulting in the widespread cancellation of popular events that attract large crowds.
The Society's annual celebration of Cornwall's early spring, sponsored by Atkins Ferrie Wealth Management, was to be staged at The Royal Cornwall Showground near Wadebridge on Saturday 4thand Sunday 5th April 2020.
"As responsible event organisers, we have been monitoring the ongoing situation and adhering to Government advice, but as the health and safety of our visitors, exhibitors, sponsors, volunteers and members is our top priority, and there is a risk that the Government will ban large-scale events in the near future, the Show Committee felt that the only sensible option was to make this decision now before any further expenditure was incurred by the Society and the many traders who had demonstrated their support by committing to attend," explains CGS Spring Flower Show Director, Dickie Trant.
"As a charity, we are committed to sharing horticultural knowledge and preserving Cornwall's rich garden heritage for the future. It is therefore important that we minimise our losses and ensure that this can continue."
"We will be making contact with advance ticket-holders, exhibitors, sponsors, volunteers, members and all other stakeholders in the coming days and thank everyone for their understanding in these challenging times. Whilst we very much regret having to make this decision, we now look forward to maintaining our reputation as "the most highly regarded spring show in the country", as described by The Telegraph, when we return to The Royal Cornwall Showground for an even more exuberantcelebration of Cornwall's early spring on Saturday 27th and Sunday 28th March 2021."
"In the meantime, we convey grateful thanks to our lead sponsor, Atkins Ferrie Wealth Management, whose generous support is helping us to bear the financial implications of having to cancel this year's Show and to Bradsons who are processing refunds for all pre-booked tickets. If you are an advance ticket-holder, please wait for them to contact you."