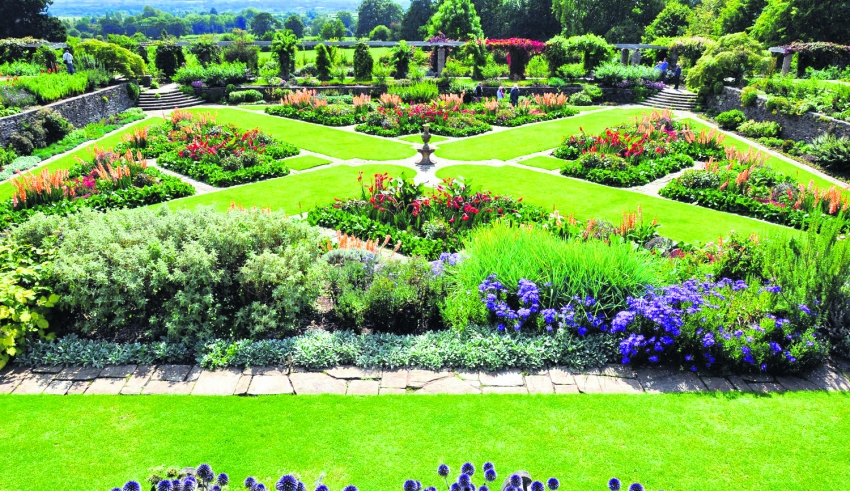 by Vivienne Lewis
For gardeners the name of Edwin Lutyens is said in the same breath as the garden designer Gertrude Jekyll. We remember the architect on the 150th anniversary of his birth, when a chance meeting laid the foundation of one of the great gardening collaborations.
Edwin Lutyens was one of the greatest architects this country has produced. His commissions ranged from a castle for an Edwardian millionaire in Devon, grand country villas to imperial buildings in New Delhi, then after World War I creating the Cenotaph in London's Whitehall and war memorials ranging from the military cemeteries in northern France to modest war memorials in towns and villages around England, and an extraordinary doll's house which sits in Windsor Castle.
But it was a chance meeting with a formidable lady that set off the young architect on his career and forged one of the greatest collaborations in garden design. Gertrude Jekyll was an artist and craftswoman who began to specialise in gardening when her myopic eyesight forced her to abandon intricate work.
She met young Edwin ('Ned') Lutyens at a tea party in Surrey in 1889. The woman who became known to Lutyens and his family as 'Aunt Bumps' was not one for tea parties but she made an exception for one fateful afternoon and it was just as well that she did.
Lutyens was at the start of his career, just aged 20. Gertrude was 45, admired for the extent of her arts and crafts work: painting, embroidery, metal work, carving and interior design. She had studied art at the South Kensington School of Art in London, and was influenced by Ruskin and the arts and crafts movement spearheaded by William Morris.
This multi-talented woman was still living with her mother in a large house near Godalming in Surrey, but she wanted a home of her own and had bought a 15-acre woodland plot across the road from the family home, where she began to create a garden – but it had no house. At the tea party (which she had driven to in her pony and cart despite her short-sightedness) she was impressed by the eager young architect, and although they had not spoken during the afternoon, invited him to see her emerging garden.
From those small beginnings grew the great collaboration of Lutyens and Jekyll. She commissioned a house by Lutyens at Munstead Wood, from where her nursery and her garden design fame would materialise. He first built The Hut, a cottage in the grounds which she used as a writer's retreat after the main house was built.
Lutyens also built the North Court by the house, a circular area beneath a timbered gallery, paved with flagstones and enclosed by Miss Jekyll's favourite foliage plants, with a garden seat designed by him and which would become one of his signature designs.
Their garden design partnership was a symbiosis in which their talents dovetailed – with his architectural eye in designing garden layouts, landscaping and stone structures perfectly complemented by Jekyll's artistic use of colour and knowledge of plants. Their greatest surviving commission today is the Formal Garden at Hestercombe Gardens near Taunton, with the Great Plat, which was completed in the 1900s for the Portman family.
Many others have not survived, but the garden at Munstead Wood has been lovingly restored, as has the garden at Upton Grey in Hampshire by owner Rosamund Wallinger who has written two books on the work of more than two decades, and where, although Lutyens was not directly involved, the garden has the essential elements of a Lutyens design, with Jekyll's planting genius.
Gertrude Jekyll was well connected in society, and through her Lutyens gained many commissions which in turn brought him to prominence in his profession.
They worked on Lindisfarne Castle in Northumberland, where Lutyens built a holiday home for Country Life magazine founder Edward Hudson, a castle structure around an old fort; Lutyens also redesigned the walls of the old enclosed garden, with a wealth of colour provided by Jekyll's planting schemes. They also worked on Hudson's other properties, Deanery Garden in Berkshire and Plumpton Place in East Sussex.
Hudson gave Jekyll and Lutyens the opportunity to reach a wider audience. He had been Jekyll's publisher for her books and articles, and now became the publicist for their commissions, with many articles in the magazine about the work they had produced: Orchard, and Goddards, both in Surrey, Folly Farm in Berkshire, Marshcourt in Hampshire, and many others.
There were some important commissions that might have been included in the long list that Jekyll and Lutyens worked on together but in some cases that did not happen. They did not work together at Castle Drogo in Devon, built over a period of many years for Julius Drewe, the millionaire owner of the Home and Colonial Stores, at the time one of the largest retail chains in Britain.
Jekyll's involvement was limited to planting suggestions for the long drive to the castle. Instead of Jekyll, Lutyens worked with George Dillistone from Kent. A formal garden was created with rose beds, serpentine paths winding along billowing herbaceous borders, corner 'rooms' of evergreens and a stone staircase leading up to a croquet lawn.
During World War 1 Lutyens started drawing up plans to commemorate the fallen. In 1917 he was invited to join the Imperial War Graves Commission, and played a crucial role in the design of British cemeteries being of a non-denominational character remembering the thousands of soldiers who died and for the headstones that made no differentiation between the dead of different ranks.
He went on to design the monuments that are forever linked to his name, the Monument to the Missing of the Somme at Thiepval in France and the Cenotaph in London's Whitehall, as well as war memorials around the country.
On a lighter note, the quirkiest garden of the Lutyens-Jekyll collaboration was created for the Queen's Dolls House at Windsor Castle, designed by Lutyens and completed in 1924. An amazingly detailed construction, with top artists and craftsmen of the day involved, a gift from the nation to Queen Mary, it was displayed to raise funds for charities, originally exhibited at the British Empire Exhibition of 1924-25, where more than 1.6 million visitors admired the intricate workmanship, with everything perfectly made in miniature, right down to cars made by Rolls Royce. The tiny formal walled garden has paved paths, low evergreen clipped hedges, little pots with plants and the famous 'Lutyens' garden benches, all in miniature.
When Jekyll died in 1932 Lutyens designed her gravestone at Busbridge church, Godalming, where she was buried next to her brother and his wife. Lutyens died on 1st January 1944. He is remembered as one of the most prolific architects this country has produced, with an incredible output, including even plans for a monumental cathedral in Liverpool that was never built, apart from the massive Romanesque style crypt.
While few of the Lutyens-Jekyll gardens have survived, their influence over 20th century garden making was enormous. Together they collaborated on around 100 gardens of the 400 that Jekyll created. We can admire Edwin Lutyens' buildings, and his garden lay outs, but many of them were made even more complete when they were clothed with the artistic planting schemes of Gertrude Jekyll.
Surviving Lutyens properties, some with gardens created with Gertrude Jekyll
Castle Drogo – Drewsteignton, Devon EX6 6PB (National Trust)
Mothecombe House – Mothecombe, Holbeton, Plymouth, Devon PL8 1LB (by appointment)
Goddards – Abinger Common, Surrey RH5 6JL
Munstead Wood – Godalming, Surrey GU7 1UN (occasionally viewed by appointment)
Great Dixter – Northam, Rye, East Sussex TN31 6PH
Lindisfarne Castle – Holy Island, Northumberland TD15 2SH (National Trust)
Greywalls – Muirfield, Gullane, East Lothian, EH31 2EG
Le Bois des Moutiers – Varengeville-sur-Mer, France
And a 'must see' garden they created…
The Formal Garden – Hestercombe Gardens, Cheddon Fitzpaine, Taunton TA2 8LG