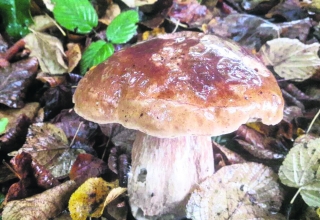 Gardeners will be the first to notice that over the past few weeks there has been an explosion of mushrooms, some of exceptional size. Weather conditions have been perfect for fungi over the last six weeks and the impact in gardens has been significant and in many cases record breaking.
Gardeners across the south west have reported a bumper crop in rarely-seen and exotic fungi spurred on by almost perfect wet, muggy conditions for them to sprout.
A damp end to the summer and a wet autumn has created fertile ground and species which usually haunt dark corners are now being seen in the open.
Gardeners at RHS gardens and Partner Gardens have been reporting unusual species, giant specimens and proliferations of fairy rings of the red and white-spotted toadstools beloved of children's stories.
Michael Jordan, chair of The Fungus Conservation Trust, led a fungi foray at Hestercombe House and Gardens in Somerset, where they recorded an unprecedented 102 species in two hours.