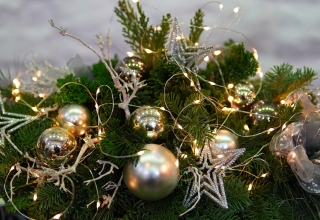 The Nursery at Miserden, the independent nursery just a short drive from Cirencester, Stroud and Cheltenham has lined up a host of festive events to enjoy in the build up to Christmas.
The season kicks off on Saturday, 31st November with the sale of a range of trees, hand-crafted Christmas wreaths and seasonal houseplants.
A wreath workshop will be held on Monday, 2nd December followed by a craft workshop for children on Saturday, 7th December. The season continues with a carol concert on Saturday, 14th December.
The nursery is set in an historic kitchen garden in the Cotswold Hills and has been selling Christmas trees for more than 20 years.
The nursery and café are open Tuesday to Sunday, 10am until 5pm until Christmas Eve.
For more information on opening times and events visit
www.miserdennursery.co.uk
Miserden Nursery, Miserden, Stroud, Gloucestershire GL6 7JA