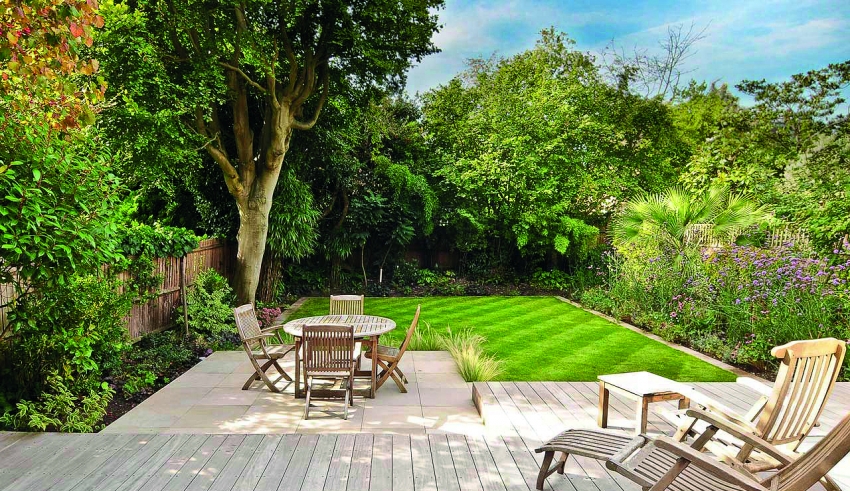 A garden design in Wimbledon by Kate Eyre Garden Design
Does your garden add significantly to the value of your home? It's not a new question but one which has been given new light with research which suggests that buyers will now pay considerable more for the right garden ingredients
How important is your garden when it comes to adding value to your property?
Two new pieces of research suggest that with gardening becoming more popular than ever, a garden is increasingly one of the key factors in the minds of purchasers and does add significantly to property prices – as long as the garden has the right in-demand features.
Property expert Ian McKenzie said that buyers are now looking for certain things when it comes to gardens – and are prepared to pay for them.
The list includes:
a south facing garden

a good quality well kept lawn

landscaped areas

good quality decking and outside eating area

an impressive front garden
"If you are looking to add value to your property, everyone looks at the interior decor and of course that's important but increasingly gardens are becoming part of the buying decision-more than a few years ago. If you've a landscape garden, have a quality outside eating area and the flower beds have a wow factor  especially when compared to neighbours for example then it can add ten per cent on to the value of your home.
So what's on the wanted list now from buyers?
South facing gardens
One piece of research by insurance firm Direct Line said that estate agents and property experts have regularly highlighted the benefits of a south-facing garden.
They were thought to be more desirable because they typically are in sunshine for most of the day, making them warmer and brighter.
Less is more
The availability of outdoor space is at a premium, so you need to consider what you want to use the garden for and what type of buyers it might attract when you eventually come to sell. If it is a family home, it's wise to maintain a grassy area for children to play on while a low-maintenance garden will be a top priority for busy city professionals..
Said Ian McKenzie: "Most young professionals either want a low-maintenance garden for outside entertaining or a safe environment where the kids can play. In both cases, less is usually more.
Hiring a landscape gardener
It's certainly worth taking the advice of a garden designer if you're looking to increase the value of your garden and plan fundamental changes.
"It's always worth showing the garden plan to a local estate agent, who can advise on whether it will improve your property's saleability.
Patios and decking
A terrace is high up on most people's wish list, so look at ways to step out into the garden on to decking or a patio. For a family house, you need enough hard surfacing to put a table and chairs out for six to eight people plus space for a barbecue and a few plants in containers.
"Buyers want somewhere relaxing for a barbecue or to entertain friends. It is another room really. A good terrace is known to raise the pulse of buyers. An outside room where you can eat, drink and entertain friends is always a winner."
Larger-scale projects
If you have the space, it's tempting to add larger-scale features such as summerhouses.
"Summerhouses are always appealing," says Mckenzie. "You won't get much change from £3,000 or £4,000 but it is not such a massive expense and you will recoup it."
Kerb appeal
First impressions count, so don't neglect your front garden. Keep it tidy and well presented, and plant slow-growing plants that don't need much maintenance. Invest in screening – perhaps a trellis or fence – to conceal unsightly wheelie bins.
A perfect lawn
It doesn't have to be perfect but the value of a good quality, well maintained lawn should never be underestimated. "A good lawn is always in a buyers psyche so it's worth getting it looked after or pepped up before you start to market a property."
Kitchen garden
"There is a growing number of buyers moving out of the city who dream of owning a kitchen garden and keeping chickens. If the hard work has already been done then there's an increasing  number of buyers who are believers in self-sufficiency and want almost live off the produce from the garden."