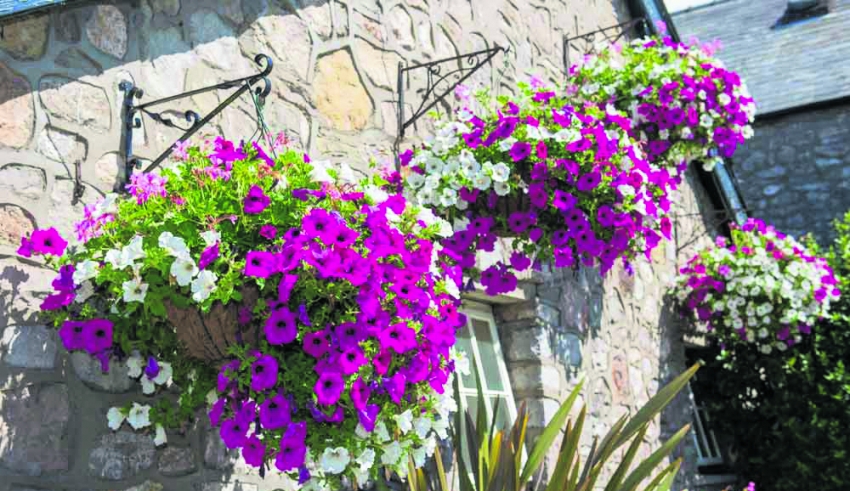 Choice of plants is the key so when you are planning a hanging basket, go for vibrant bedding plants for a short-term show or herbs, shrubs and evergreens for a long-lasting display
It is probably true that you love them or hate them. Hanging baskets seem to attract both ends of the popularity scale when it comes to gardeners – with nothing much in between!
The fact is that hanging baskets are going through a renaissance at the moment probably fuelled by the appearance of them by the hundreds as towns, village and cities delve into the delights of Britain in Bloom.
Hanging baskets are a popular, no-fuss way of enjoying flowers without the hassle of planting and maintaining a flowerbed or border. Plant summer hanging baskets from April onwards, but they will need protection from frost until the middle or end of May. If you do not have a greenhouse, it is usually easier to plant in situ once the frosts have passed.
If you think only petunias or geraniums are suitable for hanging pots, it's time to expand your choice of plants and combinations of plants.
For attractiveness and interest, consider using plants you wouldn't normally consider. For example the creeping zinnia (Sanvitalia) with its dime-sized, gold or yellow flowers with black centres is usually found in flowerbeds. But in a hanging basket, an awesome mound of colour will cascade down three feet.
Clematis normally shoots up a trellis but think how spectacular it would look heading downwards from a basket!
English ivy generally is dismissed as a non-hardy vine. But as it likes shade, it does great indoors in hanging baskets or hanging in shade outdoors in summer. And there are dozens of cultivars to choose from with leaves that are flat or ruffled, white or yellow variegated, and all shapes.
Many of the more unusual annuals are being introduced through full-service garden centres, specialty nurseries, and both mail order and on-line catalogues.
Some plants suitable for hanging baskets include the small white-flowered Bacopa (several cultivars available), blue fan flower (Scaevola), the dainty pink or lavender Diascias, and Million Bells or trailing petunia (Calibrachoa). Or try some of the new verbena cultivars with red, purple, pink, or white flowers, and the liquorice plants (Helichrysum) with silver, gold, variegated, or small leaves.
You can choose from many types of containers with the traditional plastic pot being the most common. But for something different, consider a container with openings on the sides for plants. Wire frames popular in the 1950s and 1960s that you line with sphagnum moss then plant, are in vogue again.
Or check out what's available from craft shows or at garden centres such as frames of twigs or woven vines. Line these with moss and plant, or simply put a pot that's already planted inside.
If you have a container with trailing plants, nail a platform, larger pot, or other holder to the top of a stake. Then place the plant on top of the stake. Even a stout limb will do. From a distance it will look like the plant is sprouting from a tree trunk!
Another option is to look at antique shops for containers to hang, such as tin cans, watering cans, or other interesting objects.
A multipurpose is fine for a display when it comes to filling with compost that only has to last for one year, but John Innes No 2 is better for a longer-lasting arrangement
When you begin to arrange the plants in the basket, it is usually easiest to start with one, central plant. This can be used to create structure and impact, which is particularly important in winter if its other companions fail to flower in cold snaps.
Around this, position some trailing plants to cover the sides of the basket, particularly if it is made from wire. However, using a more decorative basket is best where it will be easily seen. 
The best plants for hanging baskets are tender perennials and annuals that have been bred to flower for a long time.
Calibrachoa
Lobelia
Cape daisies
Diascia
Begonia
Pelargonium
Petunia
Tomatoes