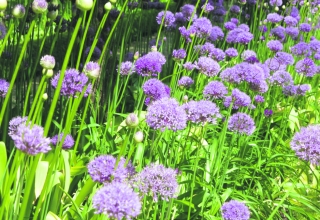 Alliums are hugely popular for their wonderful displays of early summer flowers and now the number of cultivars has expanded hugely, gardeners have no excuse in not growing them
No other plant or flower attracts quite such admiration in borders and beds than wonderful alliums. They're architectural, loved by bees and are ideal cut or dried flowers.
Allium colours vary. However, most range between purple and lilac. The darker-purples tend to be hardier than the more silvery mauves and once they appear in your garden you will love them for a long while.
Alliums are the ornamental cousins of onions; their flowers are characteristically clusters of blooms, often forming tight globes, but sometimes arranged in loose bunches of pendant bells, like tassles. Tall alliums, particularly 'Gladiator', which has purple flower-heads the size of a soft-pitch softball and stands every inch of four feet tall among the peonies, are not for shy gardeners, but the vast world of alliums also has a demure side.
The variety within the genus allium is astounding: about 700 species are known.
Little Allium moly, sometimes called golden garlic, grows to only about a foot tall and produces dancing clusters of bright yellow flowers in early summer.
Allium aschersonianum has very dark pink flowerheads about the size of a tennis ball and stands about two feet tall.
Allium rosenbachianum, one of the earliest alliums to bloom, has round, five-inch flowerheads of purple, white, or a rich lilac. Even after the blooms fade, most allium flowerheads remain quite showy on their tall wands through early summer.
Allium flowers rarely smell like onions — it's the foliage that smells strong, and only when you crush it. They are all easy to grow; few spring-flowering bulbs are as undemanding as alliums. They bloom profusely in full sun, but tolerate a surprising amount of shade.
Alliums can thus be planted to advantage among roses, peonies, hostas, and ferns and under trees and around shrubs. Small alliums make a lacy edge at the front of a border: chives, which are easy to grow from seed, make a perfect edging for an herb garden, and they look pretty in front of roses, in a rock garden, or along the edge of a flower bed, too. The largest alliums are like garden sculptures; they're tall enough to plant at the back of a flower bed, but put a few bulbs up front, too: you'll want to shake them by the stems, pat their fuzzy heads, and inspect their thousands of sparkling flowers up close.
It's worth knowing that allium leaves, like onion skins, are a strong dye, which will stain yellow, so don't pick or defoliate alliums in your pristine whites.
What to plant with them
The taller varieties of alliums are tall and straight in a border and do not need staking due to their stiff stems. However, their leaves emerge early and die back before the flowers appear, so foliage tends to be shabby by the time alliums are in flower and it's best to have them growing through lower-growing herbaceous plants so that this is hidden. Low-growing hardy geraniums, Alchemilla mollis and the silvery leaves of Artemisia 'Powis Castle' will hide any unsightly leaves.
They look just as well in a flower border as they do on the edges of a vegetable garden, so they can be grown under standard gooseberries, or under standard roses. They should be woven through a border so are best ordered in 50s or 100s. However, some hybrids are expensive so generally the cheaper varieties are planted en masse with stands of a few bulbs of the most expensive ones.
Anna Forster worked at RHS Wisley on a three year trial on alliums and now grows 20 varieties in her Dorset garden.
Allium bulbs – the facts
Allium bulbs are planted in early autumn and will flower next year and for a few years if they are prevented from self-seeding. 
Alliums are generally plants of sunny and well-drained soils.
If you plant a pale allium find it a warm spot.
Plant allium bulbs at twice the depth of the bulb, four to five inches deep and about a foot apart.
As the allium flowers fade some will develop seedpods and these need to be removed before the black seeds escape and create a sea of grass-like seedlings.
Feed alliums every spring with a potash-rich fertiliser.
Do not let alliums self seed! They will produce hundreds of grassy nuisances.
Alliums will attract bees and butterflies.
Allium 'Ambassador'
A six inch fuzzy round head of purple stars that goes on and on throughout June and July without fading in colour. Robust and reliable, year after year, and there are no seeds. The bulbs are massive.

Allium 'Gladiator' 
Another hybrid that forms a large lilac-purple completely round ball. 

Allium 'Giganteum' 
The most expensive bulb usually, but well worth it because this is taller, reaching four feet in height. The flower is grapefruit-sized with lots of flowers that form a fuzzy ball, but this is a species found on lower mountain slopes in Central Asia, introduced in 1883.