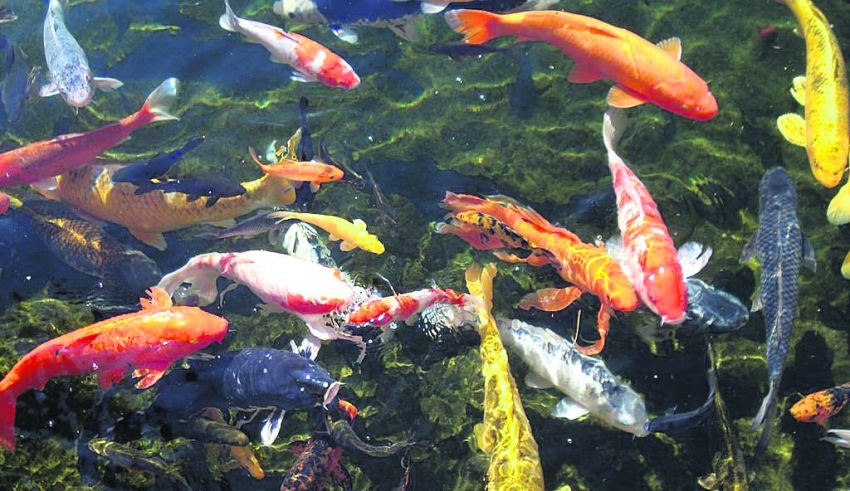 We asked the Devon pond experts at Bow Garden & Aquatic Centre to give us their advice about how to give your pond an early season 'MOT' to make sure it is at its best this summer.
Bringing your pond out of its' over-wintering' state and into spring is one of the most important times of the year for the pond enthusiast.
Fish have been hibernating at the bottom of your pond and are now becoming more active so it is vital that you ensure your filtration system is working at 100 per cent.  Bow Garden & Aquatic Centre have years of experience of pond management and their top tips for a successful pond season are simple and straightforward to follow.
Make sure your filter is running at full capacity.

 

The pump and filter are the heart of your pond so check your pond pump and clean the impeller and its' housing of any pond sludge that has accumulated in there.

 

Next you will need to ensure the foams in your filter have not perished beyond use – if they have replace them with new ones but do not remove them all in one go as you will take all the beneficial bacteria out of your filter in one fell swoop. Replace one or two foams to start with and then a few months later replace the rest, as this will give the good bacteria time to colonise the new foams you have put in.

 

This good bacteria is essential for a pond's eco system as it helps to prevent algae.

Check the pond hose around your filter and pump. Look for any damage, check the pipes and fixings and replace if necessary.

Use a filter booster now, especially if you are replacing your foams.

 

Bow recommend Live Filter Bacteria as this helps establish and maintain your filter and will also help to reduce sludge in the bottom of your pond.
Replace your UV Bulb.

 

With stronger sunlight algae will start to grow in your pond and to stop this you will need a fully functioning UV bulb.

 

The life expectancy of a UV bulb is one year but its effectiveness reduces monthly so to ensure your pond is algae free it is advisable to change the bulb at the beginning of spring as this is when algae is most likely to bloom.

If you have a build up of sludge in the bottom of your pond use a PondVac to remove this.

Remove any dead or rotting plants and replant with new and ensure you have adequate oxygenating plants.

 

Bow have one of the largest selections of aquatic and bog plants in the South West so you will easily find something to suit your pond.
Fertilise your pond plants with a slow release
aquatic plant food for maximum growth in the season.
Start to feed your fish with your regular food.

 

It is a very good idea to use a feeding ring when the season starts so that you can visually check your fish for any signs of disease and treat accordingly.
Test your water.

 

A water test can tell you a great deal about the state of your pond.

 

Bow offer free water testing – simply take a sample down to the store and they will test it for you and let you know if there is any action you need to take.
Keep your fish safe.

 

Right now herons and other predatory birds are becoming more active and possibly eyeing up the fish in your pond for breakfast!

 

Stop them before they start to feast on your fish with a suitable deterrent.

 

Choose from a plastic pond heron as a visual deterrent or for more persistent attackers install floating pond netting which floats on the surface around the edge of your pond and stops predators reaching your fish.
Finally – if you have any problems with your pond that you just can't fathom yourself, visit Bow and one of their friendly team will be able to help you.
Bow Garden & Aquatic Centre is a gardener, pet & fish-keepers' haven with an extensive garden and pet shop, gift shop, display gardens, a giant koi pond & Country Coffee Shop with home-made food and great Sunday roasts so it's well worth a visit!
---
And for those who would like to add a pond into their garden
Take some time and thought to plan the pond: design it on paper, deciding on the shape. Include deeper and shallow areas, and shelves where plants can sit.
Mark out the area for the pond with string and a use a spirit level as it needs to be accurate horizontally if the water surface is to sit just under the edges.
Stretched synthetic rubber liner is the preferred option for lining most ponds these days. Concrete can have problems – it has to be made waterproof with a special render and seal. Pre-cast fibreglass moulded liners are quite expensive and the shapes are restricting, whereas with a butyl or rubber liner you can shape the pond as you want it.
The size of butyl liner you should buy has to be the greatest width of the pond plus twice the greatest depth. Mark out the area using sand or a hosepipe, or string if it is to be geometrical.  Remember when you dig out the pond area, there will be heaps of soil to go somewhere else, so plan for this as well. Dig out the area 5cm deeper and wider than the eventual pond will be.
Use a spirit level to get the bottom of the pond at an even level. Make sure that there are no stones left in the ground which will puncture the liner. Make an underlay using old pieces of carpet, soft builders' sand or pond underlay fabric.
Place the liner over the pond area and push it down into the corners and pleat it against the sides. To cover the edge use turf, large rocks or slabs. These will provide places for dragonflies and damselflies to bask in the sun, and for birds to drink the water from. Just putting turf round the pond will be good for creatures to move in and out, but will need a deep layer of soil and will soak up water.
Fill the pond with rainwater from a water butt if possible, but if you need to take it from a water tap, leave it for a few days before adding any plants to let the chlorine evaporate.
---
Bow Garden & Aquatic Centre EX17 6LA is on the A3072 between Crediton & Okehampton, 01363 82438
www.bowgardencentre.co.uk