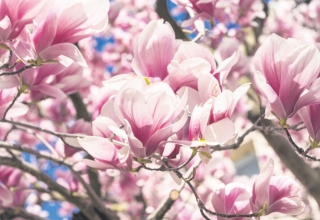 Magnolias and their astonishing goblet or star-shaped flowers are perhaps the oldest genus in the world and of course the admired and loved icons of spring
Magnolia trees still retain a reverential place in the hearts and minds of the English gardener and its ubiquitousness does nothing to diminish their regal splendour. In fact, they're as admired as they've ever been and gardens all over the country are filled with their exuberant blooms, elegant shape and attractive apple green leaves.
They lay their claim to infamy in the spring, and as one of the heralds of spring, they join the patchwork tapestry of colours, shapes and forms that help to make spring the vibrant, life affirming time of year we all love.
When, exactly, 'spring has sprung' can be a communal, national celebration, or a very personal and unique moment depending on your outlook.
I, for one, have a deep-seated mistrust for 'official' calendar dates or being told by newsreaders that it's time to go outside and look at the daffodils. For me it changes every year and it's the plants that guide the way.
So, as the weather turned last year from the wicked bitterness of winter, to the embracing rays of the mild late spring, I was out walking on favoured ground in the eastern Mendips, when I happened across a superb specimen of the Magnolia stellata, poking its head over a garden wall. Living up to its name, and breaking out like a riot against its bare branches were its chalky white blooms – like fireworks or floppy stars – and then, for me, spring had truly sprung.
Although coming across a favourite plant in a stranger's garden can be one of life's simple joys, it's not always quite the fortuitous endeavour, so we may need to look a little harder for some guaranteed magnolia magnificence. Here though, we are blessed by our geography, as living in the south west of England has ample advantages, but when it comes to seeing magnolias we're in an exclusive club of rare excellence. And Cornwall and South Devon in particular, are the jewels in the crown.
The Great Gardens of Cornwall has taken this bestown honour rather seriously and starting running the 'Spring Story' – a barometer of spring that waits until 50 blooms have appeared on each of the Great Gardens' Magnolia campbellii to declare the beginning of spring. A nice touch of a modern tradition that not only shows the balmy conditions of the region to bring spring so early but also the joy of getting into the garden early in the year to appreciate the early awakening. The gardens include Caerhays Castle, The Lost Gardens of Heligan, Trebah, Tregothnan, Trewithen and Trewidden. As a personal side note, I would add both Greenways and Overbecks on the South Devon coast.
"I have a deep-seated mistrust of 'official' calendar dates or being told by newsreaders that it's time to go outside and look at the daffodils. For me it changes every year and it's the plants that guide the way."
If you miss the early campbellii show there are plenty of other varieties to look out for as spring develops: M. x loebneri 'Leonard Messel' is always popular due to its hardiness, light pink colour and more compacted shrubby form; M. denudata offers the range of buttery yellow blooms but is not suitable for small gardens; and M. liliiflora 'Nigra' is a much later flowering variety with delightful tulip shaped, dark purple blooms.
Most of the these varieties suffer from the age old problem of taking at least five years from inception to flowering but some nurseries are beginning to introduce cultivars that have overcome this through vegetative growing techniques such as cuttings and grafting – allowing the blooms to appear much earlier. This means looking out for the new named hybrids or going to specialist nurseries like Junker's in Somerset.
I had the personal satisfaction of looking after M. x soulangeana whilst head gardener at Kilver Court and if you have the room (and the years!) to let it grow to its full height, then you will be richly rewarded. The Saucer Magnolia as it is more commonly known, has the most outstanding, upright flowers (or tepals) that really are unmatched in their beauty and usually in a two tone white to pink blush effect.
With appreciation for colour, shape and leaves comes, I think, an appreciation of where these majestic plants came from. And with all plants, if you understand their origins, you'll understand on a much more intuitive level how best to nurture them and unlock their greatest potential.
It's a little known fact that the magnolia genus is one of the oldest in the world. Appearing, rather remarkably, before bees, leaving many scientists to speculate that they must have been pollinated by beetles instead. The genus' natural state is mainly is the east and south east of Asia but, possibly due to its ancient beginnings, is also found in central and south America. The name, Magnolia, is an honour to the French botanist, Pierre Magnol – an early botanical innovator and the first person to adopt the classification system of order that is still used today.
If all that is interesting enough but no help whatsoever when it comes to understanding the needs of the plant, then look to plant in a humus rich, moist, but well drained, soil – avoiding chalky if possible. Almost all magnolias will benefit from light shade but will also be more than happy in a sunny position. Pruning always gets the uninitiated in a bit of a twist but, as is increasingly common, people seem to want to keep a tree that wants to grow ever larger to a restricted size.
This is fine but it takes a continuous regime of pruning over many years – if you hard prune a large species Magnolia you will likely bring about upright water-shoots and a loss of elegance in form and shape.
Magnolias will leave us charmed and enthralled for many years to come, I have no doubt about that. But each year is an opportunity for pleasure and wisdom so don't let this year slip away without getting close to some of these majestic plants at their absolute best.
by Matt Rees-Warren