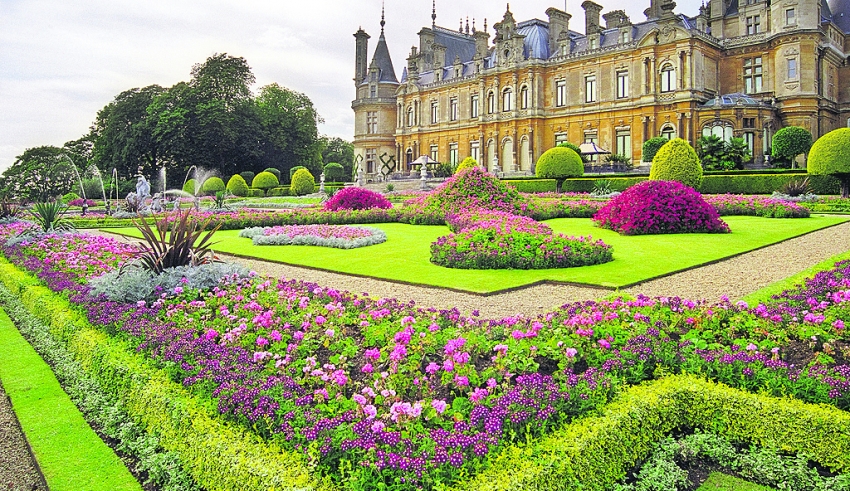 The bestselling Victorian garden writer with the unusual name brought gardening to the masses in this country in the 1870s with his books and journalism including the magazine Amateur Gardening, still published today
In the 1870s amateur gardeners were trying to copy the complicated carpet bedding style. Then seen in parks and great gardens, with patterns of plants created in all colours and shapes. The idea was that carpet bedding emulated the popular Oriental carpets to be seen in many Victorian sitting rooms. It was hard work, planting out hundreds of tiny plants to a template design.
One of the bestselling garden writers of the period spoke out against this, well before better known writers William Robinson and Gertrude Jekyll. His name was unusual – James Shirley Hibberd, and he became a household name. Shirley Hibberd is sometimes thought of as an archetypical Victorian who loved elaborate plantings, but he opposed it for the amateur gardeners he wrote for, saying that it wasn't suitable for small domestic gardens.
Today the gardens he created are long gone and his books were out of print for many years before facsimile editions were produced, but he should be remembered as a pioneer of promoting gardening for the masses in his books and the magazines he edited, including the popular Amateur Gardening, still published today.
He was not brought up in a leafy middle class area or in a rural part of the country and he had no connection with gardening until later in life. He was born in 1825 in the Mile End Road in Stepney, east London, the son of a retired sea captain who went on to become a printer. His father died when he was in his teens and he became a bookbinder and bookseller.
There are lots of references to his writings in books about the history of gardening, but he remained an obscure figure of the past until the garden historian Anne Wilkinson researched his life, eventually writing his biography. In 1998 she published a paper on Shirley Hibberd in the journal of the Garden History Society, and that told us a lot more about this man who had been so influential in Victorian gardening for the general public, and a pioneer in the horticultural industry.
The intriguing second name 'Shirley' could be because of a connection to the wealthy Shirley family who had owned land in the Mile End area in the previous century.
James Shirley Hibberd was primarily a journalist and writer. He became interested in vegetarianism for a while and contributed to the journal of the Vegetarian Society (he was possibly also the editor). This lasted about three years; he was also an 'operative chemist', the name for scientists who lectured, often to medical students as well as carrying out some research. He published a book on chemistry for beginners in 1850, the first of a range of about 15 books, and as his interest in gardening increased he published books on various aspects of gardening including conservatory and greenhouse gardening, on roses, ferns, ivy and vegetables.
He edited gardening magazines apart from founding Amateur Gardener. He wrote from personal experience as an amateur gardener to other amateur gardeners, trialling varieties of flowers, fruits and vegetables, introducing innovative horticultural methods, some of which worked better than others. He was particularly interested in the potato, after the famine in Ireland, and trialled 200 varieties.
Sadly, although he moved around and so made more than one garden, none have survived – his gardens and houses were in suburbia but later the capital's development encroached on these areas and now there are rows of houses and blocks of flats covering the sites.
His communication skills were honed by his time as a lecturer and he became a popular after-dinner speaker. Weekly newspapers and magazines were the popular medium of the day and he became a famous figure. His perhaps best known book, Rustic Adornments for Homes of Taste published in 1856, went into several editions, one the following year.
The book covered various aspects of gardening as well as bee keeping, fern growing, aquariums and keeping birds, making summer houses and growing plants in the elegant glass Wardian cases that had started out as a way of transporting plants by long sea voyages but became fancy, miniature glasshouses for keeping plants in domestic parlours.
There had been books published before on these subjects but Shirley Hibberd put them in a single volume with illustrations and quotations from poetry. It appealed to the growing middle classes who aspired to having lovely homes without spending a fortune and could not afford employing expensive labour.
In 1858 he moved with his wife Sarah to a house with a long garden in Stoke Newington; he began editing The Floral World and Garden Guide, a monthly newspaper for amateur gardeners and used the renovation of his garden to show practical gardening to his readers. As the garden progressed they read about the emergence of a rockery, a fern garden, jardiniere, fruit and vegetable experiments. He wrote about plunging plants in pots into the border to spruce it up when it lacked colour and interest.
The amateur gardening market was growing but it was still small and the gardening publications of the day were used to addressing the owners of large gardens and estates and their teams of professional gardeners. Shirley Hibberd wrote about town gardens that weren't grand and needed plants resilient to smoky conditions, and other garden writers such as John Lindley, the editor of The Gardeners' Chronicle were forced to acknowledge the changing pattern of gardening in this country.
James and Sarah Shirley Hibberd moved house a couple more times and created more gardens, and next to one of them he made an experimental garden from a rough field exposed to the east wind, making a specially designed shed for his bees, breeding dark coloured poultry so that thieves couldn't see them at night, and glasshouses – which were wrecked along with crops in a hurricane and hail storm in July 1874. Windows in his house were smashed, and local market gardens and nurseries were so devastated that he set up a fund to help them.
Sarah was a semi invalid with a heart defect (she used to look after the fernery glasshouse, unable to do more); she died aged 56 in 1880 after 30 years of marriage. They had no children. Shirley Hibberd remarried four years later his cook Ellen Mantle aged 28 and 31 years his junior. In 1885 they had a daughter also called Ellen but known as Nellie; while the baby survived, Ellen died four days later of septicaemia.
Some of his ideas on fruit pruning and vegetable growing were ridiculed but he remained an influential figure, starting Amateur Gardening in 1884, and he was a constant public speaker. He edited a scientific journal, revived the Royal Horticultural Society's garden at Chiswick and organised international conferences. He died in 1890, quite suddenly, from exhaustion during a conference he had organised on the centenary of the introduction of chrysanthemums to Britain.
We have to thank Anne Wilkinson for delving into the life of an extraordinary Victorian who helped so many ordinary gardeners in fulfil their dream of an attractive garden without outside help, a man who in his time was as famous as Alan Titchmarsh is now, but who was forgotten about for so long.
If you want to read more about James Shirley Hibberd, look out for Anne Wilkinson's biography of him entitled Shirley Hibberd: the Father of Amateur Gardening, His Life and Works 1825-1890, and there are several classic facsimile editions available, including Rustic Adornments for Homes of Taste and the lesser known Brambles and Bayleaves: Essays on the Homely and the Beautiful.