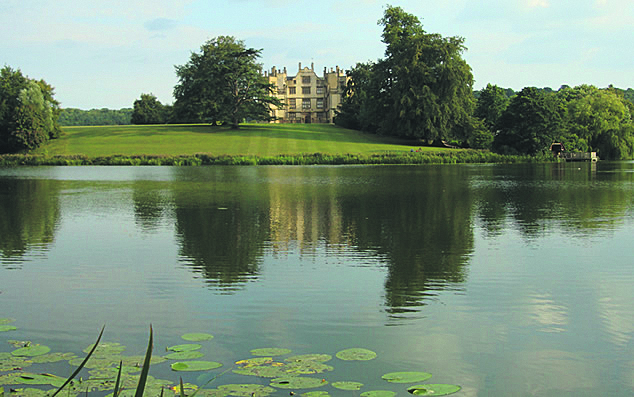 Lancelot 'Capability' Brown changed the face of eighteenth century England, designing country estates and mansions, moving hills and making flowing lakes and serpentine rivers, a magical world of green
During the 18th century formal gardens went gradually out of favour and a more natural style started to take shape. We think of 'Capability' Brown as the man who swept away the formal gardens of the great estates, but that isn't strictly true: it certainly didn't happen overnight, and there were owners who clung on to the old style.
As with many great changes, there was a period when garden design went through a transitional phase, with some bizarre results. One of these was the curly or zig zag path, a reaction to the old formal straight ones. The old geometric style was gradually giving way to sensuous curves.
But the leader of what came to be known as the English Landscape School of Gardening was certainly Brown. He was given the nickname of 'Capability' because when he rode around an estate on a survey for future works, he often said that the site had 'great capabilities', meaning potential. He was also 'Capability' personified in our meaning of the word, with his strong, dependable, practical personality and sense of what was needed to 'improve' the landscape around a country house.
He redesigned about 170 country estates, so many that he couldn't possibly have supervised them in great detail. After his survey of an estate on horseback, he sent in his own team of skilled labourers under a foreman who had exact instructions.
He was a good engineer, well able to get his men to build dams, drain the land, carry out trenching and planting. Lakes were often much shallower than they appeared to be, would have been 'puddled' by many workmen's feet to make the lake floor stable, and a plug just like a bathroom basin inserted. Natural it may have looked, artificial it certainly was.
Born the son of a yeoman (although there is a theory that he was the illegitimate son of a local aristocrat) in Northumberland in 1716 he was educated at the village school and worked in local gardens before heading down south and became head gardener at Stowe in Buckingahmshire, the seat of Viscount Cobham, where he first had a chance to make his mark.
His style is unmistakable. Basic contours would be altered to produce smooth rounded slopes with rounded clumps of trees, terraces or parterres near the house replaced by grass, a sunken ditch lined with stone called a ha-ha was made to keep the grazing animals at a safe distance without the need for a wall or fence to contain them. Wherever there was a river it would be dammed to make a lake, the dam screened by trees and hidden from view so that it looked a natural water feature. 
Paths were made into gentle curves, and perimeter areas had carriage drives made private and sheltered by a screen of trees. In his later years he grew to like scattered garden buildings, temples and follies less and less, but they still were used sparingly.
Brown died in 1783. He made a lot of money – in a profitable year earning £34,000 – and became the gardener to George III. The venerable vine at Hampton Court was planted under his stewardship there. He was so influential that estates all around the country had the 'Capability' Brown look.
---
What to look for in a 'Capability' Brown 18th century English Landscape Garden
views and vistas from the house, often with a 'ha-ha' to keep grazing animals out

garden temples, follies and 'eyecatchers' in his earlier gardens – less so later in his career
rounded slopes with clumps of trees
rivers dammed into serpentine lakes
gently winding paths

grass up to the house (although many had Victorian flower beds added)

nature generally 'improved'
---
Find these gardens of the period, some of them designed by their owners or other designers in the landscape style
Stowe, Buckinghamshire (Brown)
Ugbrooke, Chudleigh, Devon (Brown)
Stourhead, Wiltshire (Henry Hoare II)
Sherborne Castle, Dorset (Brown)
Bowood, near Chippenham, Wiltshire (Brown)
Croome Court and Park, near Worcester (Brown)